The Management of Theft and Vandalism on Construction Jobsites in the Southern Region of Malawi
Abstract
The phenomenon of theft and vandalism on construction job sites in Sub-Saharan Africa (SSA) has not been fully explored to guarantee the implementation of evidence-based security management practices (SMPs) to minimise losses and improve projects' profitability margins. This study investigated the management of theft and vandalism by large contractors in the Southern Region of Malawi to identify implementation issues that need improvement. A quantitative approach using an empirical survey-based questionnaire was adopted. 44 SMPs identified from the literature review were tested by data collected from a sample survey of 40 large contractors in the Southern Region of Malawi. The descriptive statistical method of mean score ranking was used to analyse the data through IBM Statistical Package of Social Sciences (SPSS) version 20.0. Among the five-point Likert scale agreement measurements used, 11 SMPs were found to be "always used", 12 SMPs "often used", 15 SMPs "sometimes used", and six SMPs "rarely used". Overall, the top three highly ranked SMPs (in descending order) were inventorying construction materials, tools and equipment, termination of employment for offenders, and reporting theft and vandalism to enforcement agencies. Contrariwise, the use of closed-circuit television (CCTV), alarm systems and access control systems (ACS) was the least ranked SMPs. The contractors' management improvements for theft and vandalism would need to focus on implementing proactive anti-theft and anti-vandalism SMPs whose choice should be informed by comprehensive Jobsite security risk assessment. Dissemination of the results may help contractors understand their security management strategies and implement practical solutions for curbing theft and vandalism on job sites to minimise its endemic effect on contractors' financial performance.
Keywords: Theft and Vandalism; Security management practices; Likert scale; Malawi.
Downloads
Download data is not yet available.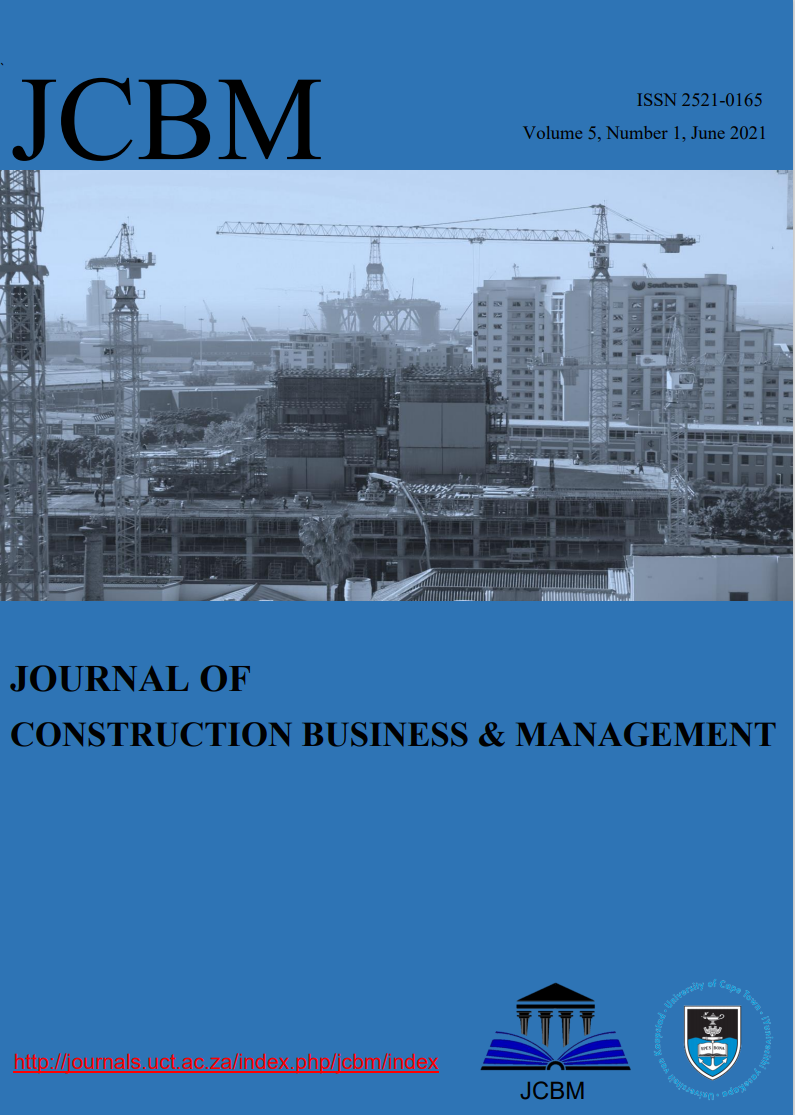 How to Cite
SIMUKONDA, W., & Kamwela, N. (2021). The Management of Theft and Vandalism on Construction Jobsites in the Southern Region of Malawi. Journal of Construction Business and Management, 5(1), 47–59. https://doi.org/10.15641/jcbm.5.1.1072
License
Copyright (c) 2021 W. SIMUKONDA, N. Kamwela
This work is licensed under a Creative Commons Attribution 4.0 International License.
The JCBM is an open access journal, and the authors (copyright owners) should be properly acknowledged when works are cited. Authors retain publishing rights without any restrictions.