Contributing Elements and Issues to Strategic Management in the Construction Industry Among Small and Medium Enterprises: A Case Study in South Africa's eThekwini Region
Strategic management in construction firms with focus on small and medium enterprises: A case study eThekwini, South Africa
Abstract
Small and medium-sized enterprises (SMEs) are vital to the economy and have helped it grow, but they still have a high failure rate. Many businesses fail within the first few months of operation due to a lack of strategic planning. This study aimed to identify persuading factors that contribute to strategic management to improve performance and categorise challenges faced by SMEs in implementing a strategic plan in the eThekwini region of South Africa. The study adopted a quantitative research approach, and the population of interest for the research includes small and medium construction companies, which were sourced via the Construction Industry Development Board (cidb) registry. An online survey tool was used to distribute the questionnaire to 145 small and medium businesses. The data were analysed using descriptive and inferential statistical tools and exploratory factor analysis (EFA). The study's findings reveal that most eThekwini-based SMEs in the construction industry use strategic management practices to improve their business performance. The key factors for strategic management in SMEs, such as improving decision-making processes, increasing productivity, and gaining a competitive advantage, demonstrated high levels of agreement among participants regarding improving business performance. This study also found widespread agreement on the challenges of implementing a strategic plan in an organisation. Therefore, small and medium-sized enterprises (SMEs) must develop procedures and policies to deal with the difficulties that arise when drafting a strategic plan. This will ensure that strategic planning works in their operations. This can be accomplished by implementing strategic management into SMEs training programs offered by government and tertiary institutions that support SMEs. The government should also improve education and broaden its business skills curriculum.
Keywords: Business, Construction, Performance, Planning, Strategy, South Africa.
Downloads
Download data is not yet available.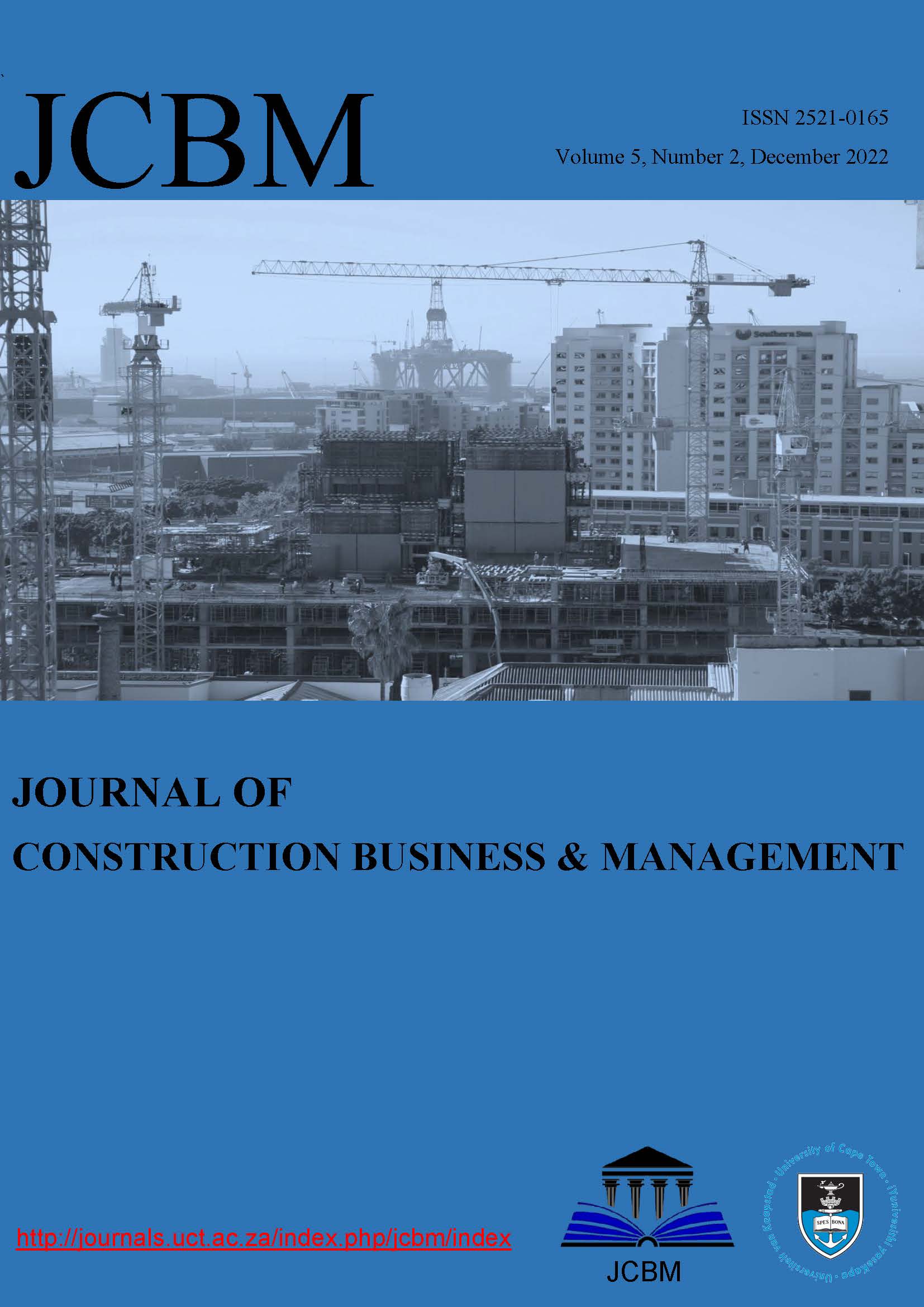 Downloads
How to Cite
Amit Rambaruth, Adam, J. K., & Krishna, S. B. N. (2022). Contributing Elements and Issues to Strategic Management in the Construction Industry Among Small and Medium Enterprises: A Case Study in South Africa's eThekwini Region: Strategic management in construction firms with focus on small and medium enterprises: A case study eThekwini, South Africa. Journal of Construction Business and Management, 5(2), 20–28. https://doi.org/10.15641/jcbm.5.2.1235
License
Copyright (c) 2022 Amit Rambaruth, Jamila Khatoon Adam, Suresh Babu Naidu Krishna
This work is licensed under a Creative Commons Attribution 4.0 International License.
The JCBM is an open access journal, and the authors (copyright owners) should be properly acknowledged when works are cited. Authors retain publishing rights without any restrictions.