Sustainable Construction Transition (SCT) Policy Regime in Kenya
Sustainable Construction Transition (SCT) Policy Regime in Kenya
Abstract
The global construction industry is lagging in transitioning to sustainability, and the Kenyan construction industry is not excluded. As a result, and in response, there are Kenyan policies with specific provisions on SCT. Despite this progress, there is limited empirical research on their scope and implementation dynamics. Against this backdrop, this study examined Kenya's SCT policy regime regarding its priorities, instruments, and stakeholder orientation, including any inherent shortcomings. This aimed to make appropriate recommendations for an improved SCT policy regime to enhance and optimise industry SCT performance. Qualitative research design, specifically, qualitative content analysis technique, was used to analyse the 34 policy documents identified. The findings indicate that the regime: priorities – primarily focus on environmental sustainability targeting strategic and tactical implementation levels with minimal focus on SCT socio-economic objectives and operational level of implementation, which reduces its comprehensiveness; instruments – driven by regulations, the constitution, and Acts of Parliament, as well as codes, guidelines, and plans, from multiple sources, primarily aimed at regulation and control and not the other policy instruments functions hence not delivering on their full potential; and, stakeholder orientation – primarily targeting developers/owners/occupiers and government with less focus on the other stakeholders and thus not leveraging their specific roles in SCT supply chain. The resulting recommendations were: priorities – need for improved focus on SCT's socio-economic objectives and operational level of implementation; instruments – need for a central database and leveraging them to support economic incentives, supporting activities, liability compensation, education and information, voluntary programs, and management and planning; and, stakeholder orientation – improved targeting of contractors, suppliers/producers/manufacturers, professional consultants, non-governmental and civil society organisations, and media. Lastly, given that this study focused on SCT policy evaluation, future research can focus on other parts of the policy-making process.

Keywords: Business, Construction, Content analysis, Kenya, Performance, Planning, Policy regime, South Africa, Strategy, Sustainability, Sustainable Construction Transition (SCT).
Downloads
Download data is not yet available.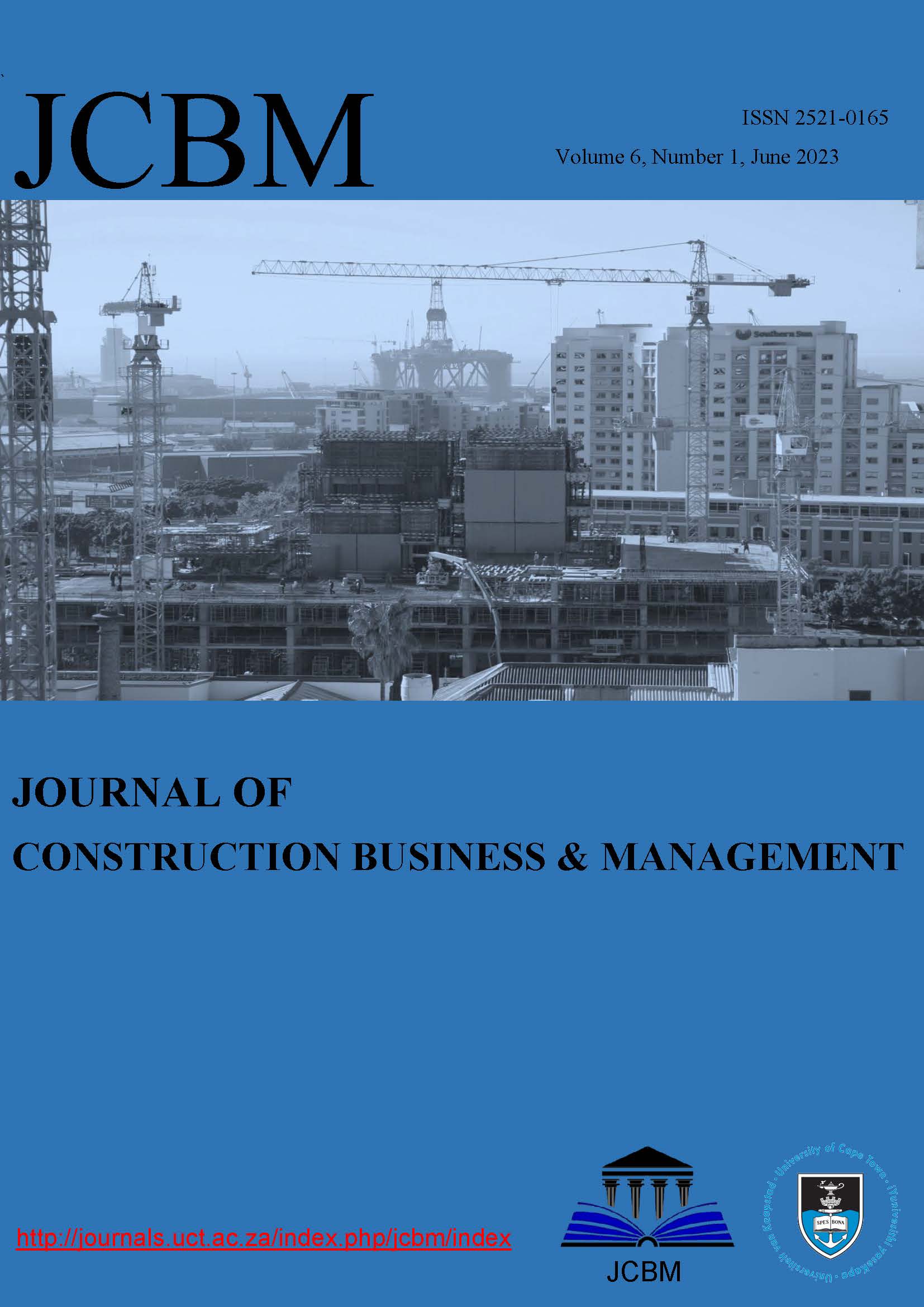 Downloads
How to Cite
Joseph, S., Ralwala, A., Wachira-Towey, I., & Mutisya, E. (2023). Sustainable Construction Transition (SCT) Policy Regime in Kenya: Sustainable Construction Transition (SCT) Policy Regime in Kenya. Journal of Construction Business and Management, 6(1), 1–16. https://doi.org/10.15641/jcbm.6.1.1257
License
Copyright (c) 2023 Samuel Joseph, Dr. Ralwala, Dr. Wachira-Towey, Prof. Mutisya
This work is licensed under a Creative Commons Attribution 4.0 International License.
The JCBM is an open access journal, and the authors (copyright owners) should be properly acknowledged when works are cited. Authors retain publishing rights without any restrictions.