Sources and Control Measures of Crystalline Silica Dust in a Road and Building Project in Zambia
Abstract
Construction works bring about silica dust hazards, part of the dust produced by staple materials such as concrete and sand. Silica dust, when inhaled in high quantities or for an extended period, is lethal to workers as it causes silicosis, which has no known cure. Several studies have reported high exposures of silica dust in construction, especially where there are no controls. As Zambia sets to become a middle-income country by 2030, increased projects have increased exposure to silica dust and chemicals that cause diseases. There is a likelihood of an increase in the generation of dust and possible contact with silica dust and chemical irritants. Therefore, the paper examines the controls used in the construction industry in Zambia and recommends improvements for silica dust exposure controls to safeguard workers' health. A cross-sectional study was conducted on a building and a road project as two case studies. Carpenters, butchers, tilers, bricklayers, demolition workers, painters and labourers were purposively sampled. The total sample size was 100 workers, 50 for each case study. The sample size was established at 10% of the estimated population of 1012. Moreover, the sample size was limited to 100 because the number of workers was reduced due to Covid-19 by the Ministry of Health. Data was collected using overt observation using an observation schedule and a camera as data collecting tools. The data were qualitatively analysed using the constant comparative method. The results showed that the combination of water and dust or face masks was the common control used on both sites. Despite the use of water and facemasks, there was still high exposure to dust and chemicals because of inadequate controls. Skilled well-fitted, recommended personal protective equipment was rarely provided. Moreover, the respiratory masks commonly used were Covid-19 facemasks which were inadequate for silica dust reduction. The only controls used were engineering control and the use of PPE. The findings suggest that workers are at risk of health problems in the Zambian construction industry brought about by inhaling dust. The combination of all methods in the hierarchy of controls and the incorporation of all construction stakeholders in ways of silica dust exposure controls are recommended. The study serves as an awareness to construction stakeholders of the health concern of high dust exposure levels and inadequate controls. There is a need for measuring actual concentrations of crystalline silica dust with and without controls.
Keywords: Controls, Construction, Observation, Silica Dust, Zambia
Downloads
Download data is not yet available.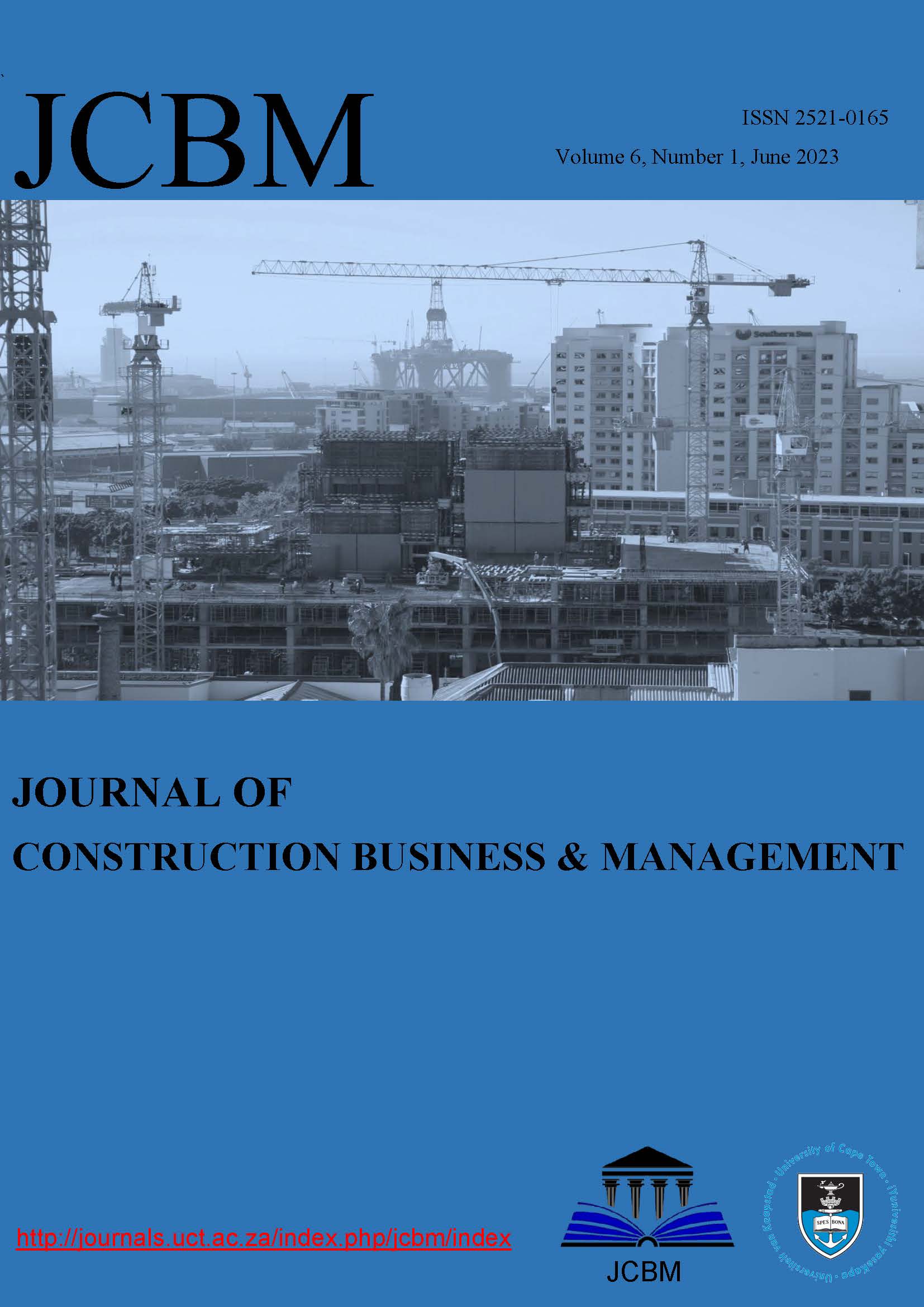 Downloads
How to Cite
Tente, P., Mwanaumo Misheng'u, E., & Thwala D. , W. . (2023). Sources and Control Measures of Crystalline Silica Dust in a Road and Building Project in Zambia. Journal of Construction Business and Management, 6(1), 43–52. Retrieved from https://journals.uct.ac.za/index.php/jcbm/article/view/1269
License
Copyright (c) 2023 Prisca Tente, Erastus Mwanaumo Misheng'u, Wellington D. Thwala
This work is licensed under a Creative Commons Attribution 4.0 International License.
The JCBM is an open access journal, and the authors (copyright owners) should be properly acknowledged when works are cited. Authors retain publishing rights without any restrictions.