Factors Influencing the Effectiveness of Graduate Architects as Construction Contract Administrators (BCA)
Abstract
Architects who are appointed as construction contract administrators (CCA) tend to delegate their work scope and authority to graduate architects due to the demand for building development being far more than the supply of architects in the nation. The effectiveness of graduate architects in administering the construction contract is important as it will influence the entire project's success. Effectiveness depends on skills acquired through training and experience in CCA. Various studies have been conducted to explore the factors that are important to be considered for the effectiveness of construction contract administration but lack in the context of graduate architects. The purpose of this study is to identify factors influencing the effectiveness of graduate architects in construction contract administration and possible methods to enhance their work efficiency through developing the relevant skills in a changing construction environment. This paper identified the factors that influence the effectiveness of graduate architects in construction contract administration through quantitative methods. General skill elements that are perceived as essential for the effectiveness of CCA had been investigated through a survey of graduate architects in the construction industry. One hundred and twenty-seven (127) completed questionnaires returned were analyzed and tested using descriptive analysis and relative important index (RII). The result from the study showed that the factors influencing the effectiveness of graduate architects as CCA are building construction skills, design management skills, project management skills, soft skills, and dispute resolution skills. The contribution of this study can be utilized for developing models/tools in the future that would improve the work performance of graduate architects in construction contract administration. Educators may utilize this study to improve their syllabus to cater to the market's demand and facilitate students' entry into the labor market. 
Downloads
Download data is not yet available.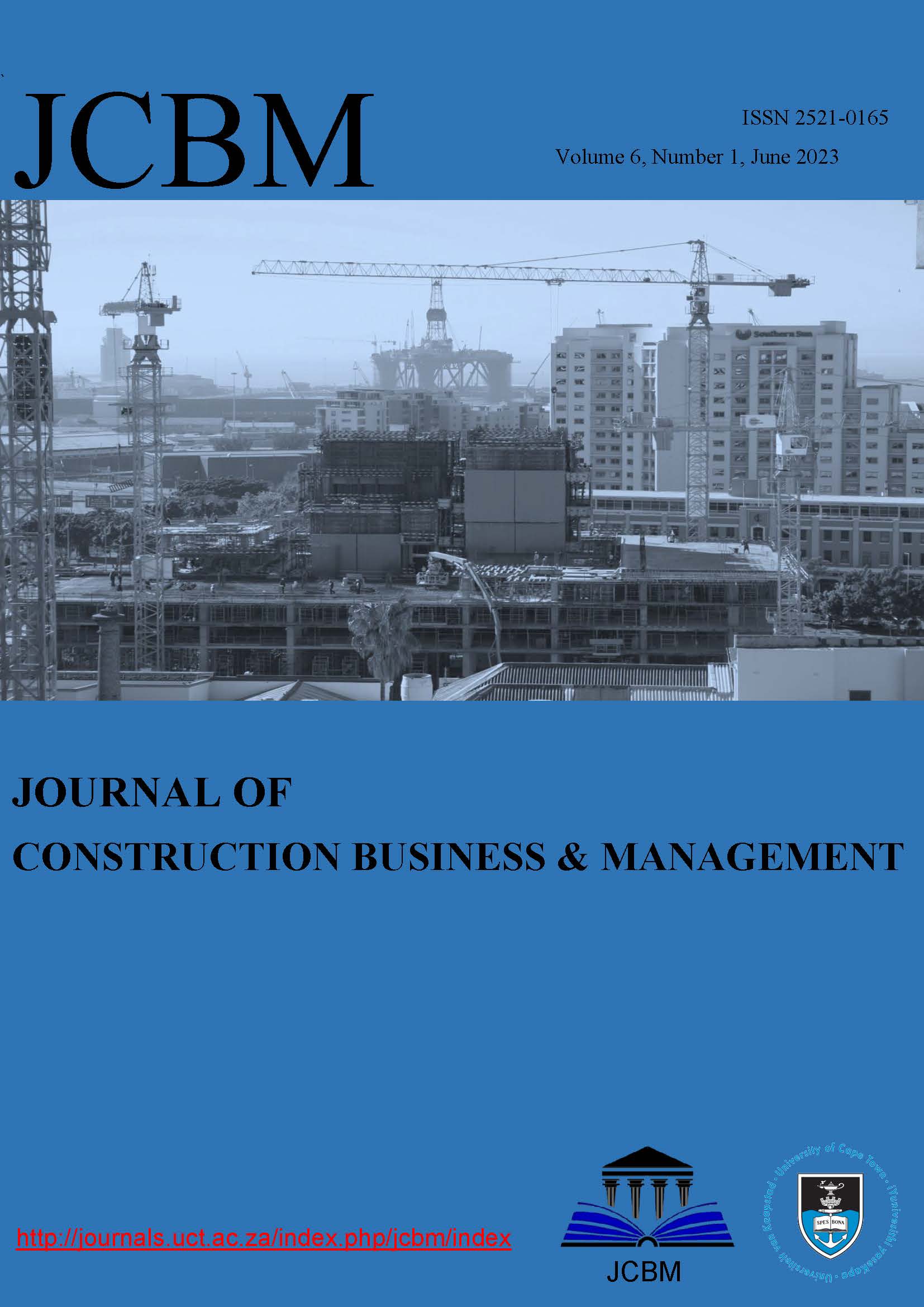 Downloads
How to Cite
TIEW, S. Y., AMAN HASHIM , H. ., & KALSUM ZOLKAFLI , U. (2023). Factors Influencing the Effectiveness of Graduate Architects as Construction Contract Administrators (BCA). Journal of Construction Business and Management, 6(1), 53–64. Retrieved from https://journals.uct.ac.za/index.php/jcbm/article/view/1337
License
Copyright (c) 2023 SI YEE TIEW, HELENA AMAN HASHIM , UMI KALSUM ZOLKAFLI
This work is licensed under a Creative Commons Attribution 4.0 International License.
The JCBM is an open access journal, and the authors (copyright owners) should be properly acknowledged when works are cited. Authors retain publishing rights without any restrictions.