Assessment of the Use of Locally Available Materials for Building Construction in Ado-Ekiti Nigeria
Abstract
The potentials and benefits of local building materials (LBM) remain untapped and seem to progress at a slow rate in the Nigerian building industry. This research examined the availability and level of usage of LBM in Ado-Ekiti, South-Western Nigeria. Further, it considered hindering and helpful factors for the use of LBM in the study area. Based on the extensive review of literatures, ten (10) LBM were identified and examined in the study area. One hundred and fifty (150) professionals closely involved with building construction in Construction companies that are fully operational in Ado-Ekiti were investigated for this study. The Relative index analysis of the frequency in the use of LBM available for building construction in Ado Ekiti revealed that the following LBM are available and in the following order, in the study area: Stone(1) with RII 0.95 , timber(2) RII 0.93, laterite(3) RII 0.92, clay and mud(4) RII 0.91, bamboo(5) RII 0.90, leaves and barks of trees(6) RII 0.88, Palm kernel shells (7) RII 0.85, wild coconut trees(8) RII 0.79, animal wastes (9) RII 0.76 and dung(10) RII 0.74. However, the level of usage of these materials is still very low. Considering the economic, socio-cultural and environmental benefits of LBM, this study recommended more awareness campaign and sensitization of the public on LBM in order to promote its social acceptability. In addition, it recommended that Federal and State governments should facilitate more research in the use of the available local materials for building construction. Availing funds specifically for research and development of LBM will also promote its use.
Keywords: Affordable Housing, Building Materials, Construction, Local knowledge, Nigeria.
Downloads
Download data is not yet available.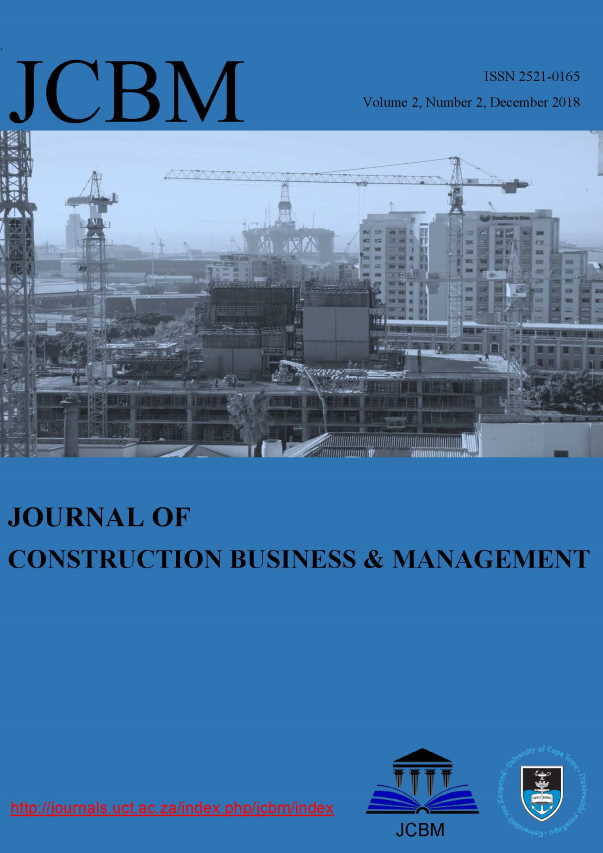 How to Cite
Alade, K., Oyebade, A., & Nzewi, N. (2018). Assessment of the Use of Locally Available Materials for Building Construction in Ado-Ekiti Nigeria. Journal of Construction Business and Management, 2(2), 36–41. https://doi.org/10.15641/jcbm.2.2.449
License
Copyright (c) 2018 Kehinde Alade
This work is licensed under a Creative Commons Attribution-NonCommercial-ShareAlike 4.0 International License.
The JCBM is an open access journal, and the authors (copyright owners) should be properly acknowledged when works are cited. Authors retain publishing rights without any restrictions.