Organisational Commitment of Construction Skilled Workers in Selected Construction Firms in Nigeria
Abstract
Skilled construction workers are crucial to the successful delivery of construction projects. However, there have been reports of their shortage within the Nigerian construction industry. Ensuring commitment of the few available ones to their organisation is important as this is bound to influence the service delivery of these organisations. This paper presents the result of the assessment of the organisational commitment of skilled construction workers in Abuja, Nigeria. A quantitative survey design was adopted, and data were gathered from selected skilled construction workers in 31 construction companies registered with Nigeria's Federation of Construction Industry. Organisational Commitment Scale was adopted in assessing the commitment of these set of workers, and data were harnessed through the use of a questionnaire. Percentage, mean item score and Kruskal-Wallis H-Test were used in analysing the data gathered. Cronbach Alpha test was also conducted to test the reliability of the research instrument. The study revealed that the common type of commitment exhibited by skilled construction workers is the continuance commitment. Factors such as getting feedback from supervisors, payment received being equal to work done, and the availability of opportunities to grow, play a major role in the commitment type being exhibited. The practical implication of this result is that construction companies within the country need to improve in the aspect of human resource management to attain better commitment and at the same time improve their productivity. It is believed that the findings of this study will assist construction organisations in adopting the right method that will help enhance the organisational commitment of their skilled workers.
Keywords: Construction workers, Nigeria, Organisational commitment, Skilled workers, Workers satisfaction.
Downloads
Download data is not yet available.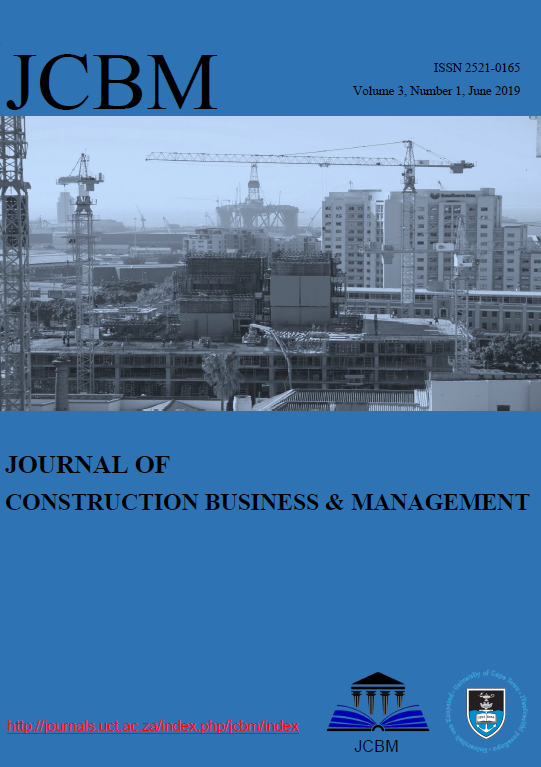 How to Cite
Aghimien, D. O., Awodele, O. A., & Maipompo, C. S. (2019). Organisational Commitment of Construction Skilled Workers in Selected Construction Firms in Nigeria. Journal of Construction Business and Management, 3(1), 8–17. https://doi.org/10.15641/jcbm.3.1.481
License
Copyright (c) 2019 Douglas O Aghimien, Oluwaseyi A Awodele, Christopher S Maipompo
This work is licensed under a Creative Commons Attribution-NonCommercial-ShareAlike 4.0 International License.
The JCBM is an open access journal, and the authors (copyright owners) should be properly acknowledged when works are cited. Authors retain publishing rights without any restrictions.