Effectiveness of Mechanisms for Enforcement of Ethical Standards in the Construction Industry
Abstract
Gross unethical conducts are common issues among professionals in the construction sector due to the heterogeneous nature of the industry. However, limited efforts are made to ensure that ethical standards become enforced among professionals in the sector. Therefore, this study assessed effective mechanisms for the enforcement of ethical standards to improve public confidence in construction professionals. Data were collected through copies of questionnaire administered on professionals in consultancy, contracting and government organizations in Southwestern Nigeria. One hundred and seventy-two (172) copies of questionnaire were retrieved and found suitable for the analysis. Data collected was analyzed using both the descriptive and inferential statistics. The study revealed that all the ethical standards identified were moderately significant with relative effective index (REI) that ranged from 0.585 to 0.526. Some of these included personal reputation, promotion of civic right, good citizenry, among others. Four major effective mechanisms for the enforcement of ethical standards extracted through factor analysis are the roles to be played by the stakeholders (68.22%), individual (9.44%), industry (3.64%) and legal instruments (3.08%). It was concluded that these four mechanisms are effective in the enforcement of ethical standards in the construction industry. The study recommends that all construction stakeholders must ensure that all hands are on deck through collaborations to sanitise the image of the industry. The outcome of this research will improve the ethical orientation of each professional, which will have a positive effect on the general public's perception of the industry.
Downloads
Download data is not yet available.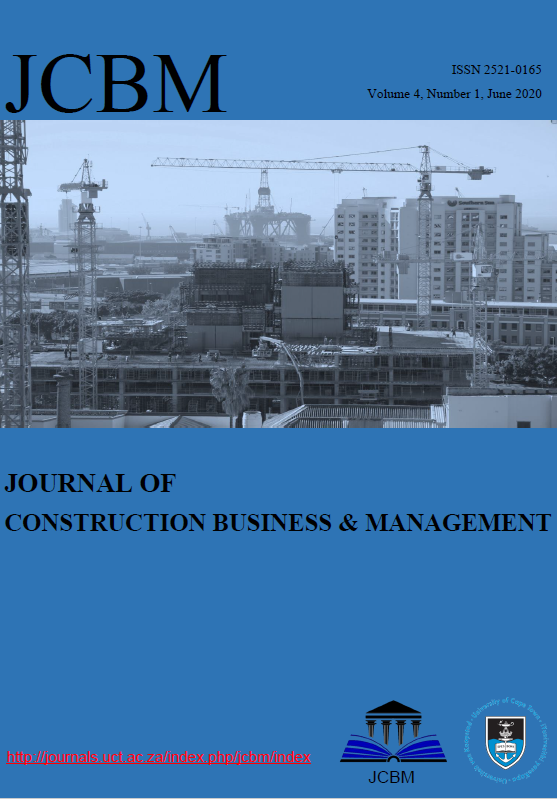 How to Cite
Akintola, B. F., Jagboro, G. O., Ojo, G. K., & Odediran, S. J. (2020). Effectiveness of Mechanisms for Enforcement of Ethical Standards in the Construction Industry. Journal of Construction Business and Management, 4(1), 1–12. https://doi.org/10.15641/jcbm.4.1.530
License
Copyright (c) 2020 B. F. Akintola, G. O. Jagboro, G. K. Ojo, S. J. Odediran
This work is licensed under a Creative Commons Attribution-NonCommercial-ShareAlike 4.0 International License.
The JCBM is an open access journal, and the authors (copyright owners) should be properly acknowledged when works are cited. Authors retain publishing rights without any restrictions.