Relationship Between Organisational Effectiveness and Project Performance of SME Contractors: a Developing Country Perspective
C. P. Ogbu

Department of Quantity Surveying, University of Benin

N. Olatunde
Abstract
Organisational effectiveness (OE) theory provides a veritable framework for examining organisational performance. This theory has, however, made a very little inroad into construction management literature, and there are limited discussions on the domains within which construction firms can measure their OE. Besides this, the extent to which corporate OE determines a contractor's project performance is not fully understood, primarily, in the small and medium-sized enterprise (SME) contractor context. Based on data from 53 projects in higher institutions in Nigeria, this study evaluated the measures of corporate OE of SME contractors and examined the contributions of the corporate OE of the firms to their project performance. By factor analysis, it was discovered that the SME contractors' corporate OE can be measured using corporate advantage, firm experience, firm certification and firm owner background. Using canonical correlation, a significant relationship was found between the OE of the firms and the measures of project performance. The analysis further revealed that project cost and quality performances are bettered by increases in firm certification and experience, although time performance tends to worsen as a result. In addition to identifying the domains for measuring an SME contractor's OE, this study shows that better firm experience does not necessarily improve a contractors' project time performance. Construction stakeholders and the public should beware of firms that only boast of an excellent corporate advantage and ownership by prominent persons in the society, but without adequate experience and certification.
Keywords: Corporate Advantage, Firm Experience, Project Performance
Downloads
Download data is not yet available.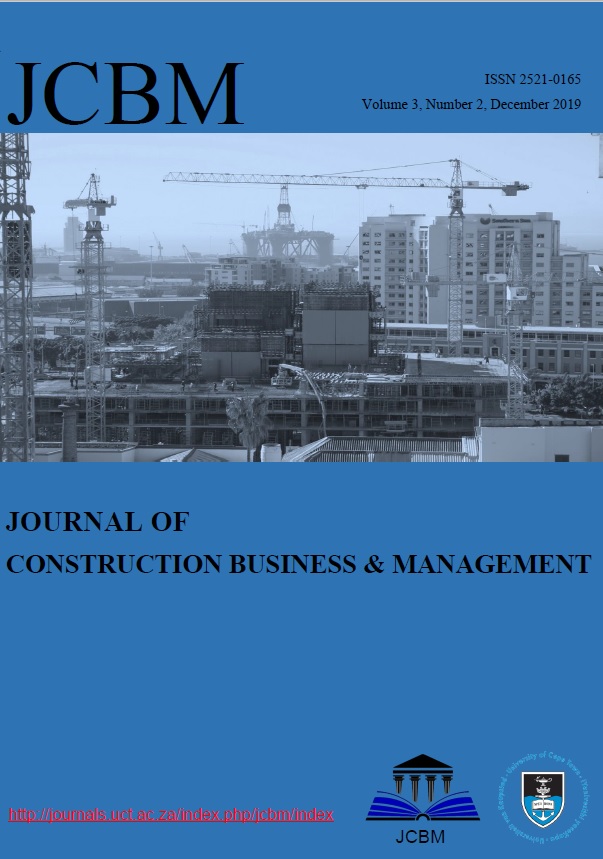 How to Cite
Ogbu, C. P., & Olatunde, N. (2019). Relationship Between Organisational Effectiveness and Project Performance of SME Contractors: a Developing Country Perspective. Journal of Construction Business and Management, 3(2), 1-16. https://doi.org/10.15641/jcbm.3.2.568
Copyright (c) 2019 C P Ogbu, N Olatunde
This work is licensed under a Creative Commons Attribution-NonCommercial-ShareAlike 4.0 International License.
The JCBM is an open access journal, and the authors (copyright owners) should be properly acknowledged when works are cited. Authors retain publishing rights without any restrictions.