Assessing Quality Management Practice in Nigerian Construction Industry
U. Abdullahi

Dept of Building, Modibbo Adama University of Technology, Yola, Nigeria

S. A. Bustani

Dept of Building, Abubakar Tafawa Balewa, Nigeria

A. Hassan

Dept of Building, Modibbo Adama University of Technology, Yola, Nigeria

F. E. Rotimi

Northtec, Auckland
Abstract
Several adverse reports on quality performance drive the need to assess quality management practice in the Nigerian construction industry. Incidences of building failures and in extreme cases, building collapse have been attributed to poor quality management among other factors. This paper assesses the quality management practices of Nigerian construction firms intending to suggest appropriate courses of action for improving quality performance. Data were collected through questionnaires administered to management staff in 20 construction firms in Abuja, Nigeria. Findings from the study show that inspections and statistical quality control techniques are the most widely used quality management tools by construction firms in Nigeria. However, the study found that the preparation of quality management plans (QMP) and quality auditing (a measure of quality assurance in building production), is not popular among Nigerian construction firms. Inadequate planning arrangements for quality, poor communication of quality requirements and lack of awareness of the benefits of quality management were identified as the most significant issues affecting quality management practice. Therefore there is a low uptake of quality management practice principles within construction organizations in Nigeria. Hence, the need to create awareness for implementing quality management principles and concepts in its construction industry.
Keywords: Assessment, Construction industry, Nigeria, Quality management, Quality standards
Downloads
Download data is not yet available.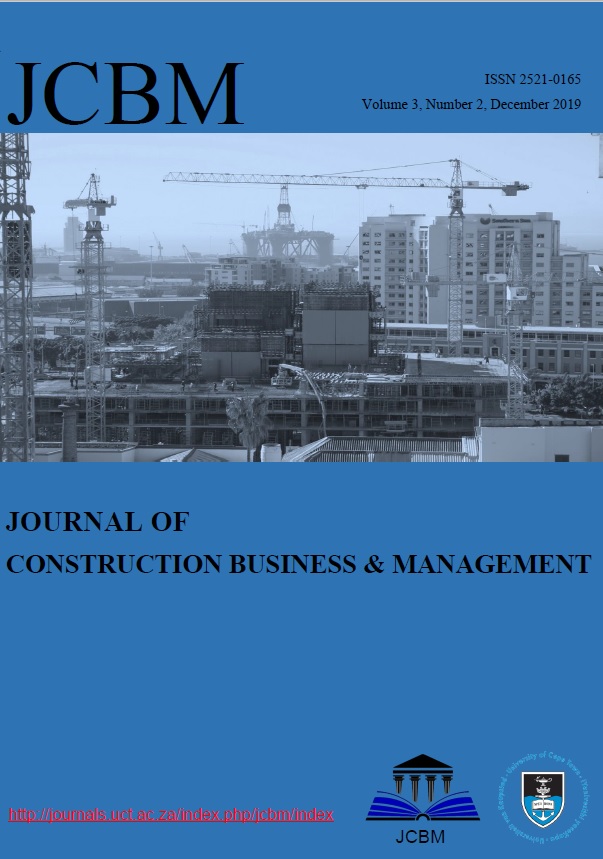 How to Cite
Abdullahi, U., Bustani, S. A., Hassan, A., & Rotimi, F. E. (2019). Assessing Quality Management Practice in Nigerian Construction Industry. Journal of Construction Business and Management, 3(2), 17-25. https://doi.org/10.15641/jcbm.3.2.569
Copyright (c) 2019 U Abdullahi, S A Bustan, Funmilayo E Rotimi, A Hassan
This work is licensed under a Creative Commons Attribution-NonCommercial-ShareAlike 4.0 International License.
The JCBM is an open access journal, and the authors (copyright owners) should be properly acknowledged when works are cited. Authors retain publishing rights without any restrictions.