Maintenance Performance of Prison Facilities in Southwestern Nigeria
O. O. Ajayi

University of Lagos

H. Koleoso

University of Lagos

M. Ajayi

University of Lagos

O. Faremi
Abstract
Maintenance performance measurement aims to assess and improve the value created after maintenance efforts, as it determines the impact of maintenance on the performance of a system or facility and its business process. As objects of maintenance, prison facilities ought to provide a safe and decent environment for prison staff and prisoners to work and live in, as well as for all others who interact with the facilities. This study evaluates the satisfaction ratings of maintenance performance on prison facilities in Southwestern, Nigeria. A survey approach was adopted to collect data from the relevant Nigerian prison staff population of 2,187 prison workers, excluding staff in the maintenance unit within a specific period. Stratified sampling technique was used to generate a sample of 1,094, which is representative of the entire population across the prisons. Three hundred and eighty (35%) out of the one thousand and ninety-four copies of the questionnaire were completed and returned. Data collected were analysed using the SPSS package. The study found that prison staff showed satisfaction with the level of cleanliness in the prison environment, quality of water and control of ventilation employing a window, as well as partial satisfaction with the twenty-nine other criterion assessed. Overall, the study indicated partial satisfaction for performance on prison facilities and established a significant agreement among prison staff regarding the perception of the performance of prison facilities. The research, therefore, suggests continuous evaluation of maintained prison facilities to ascertain their condition and performance levels.
Keywords: Maintenance Performance Criteria; Prison Facilities; Prison Staff; Satisfaction Ratings
Downloads
Download data is not yet available.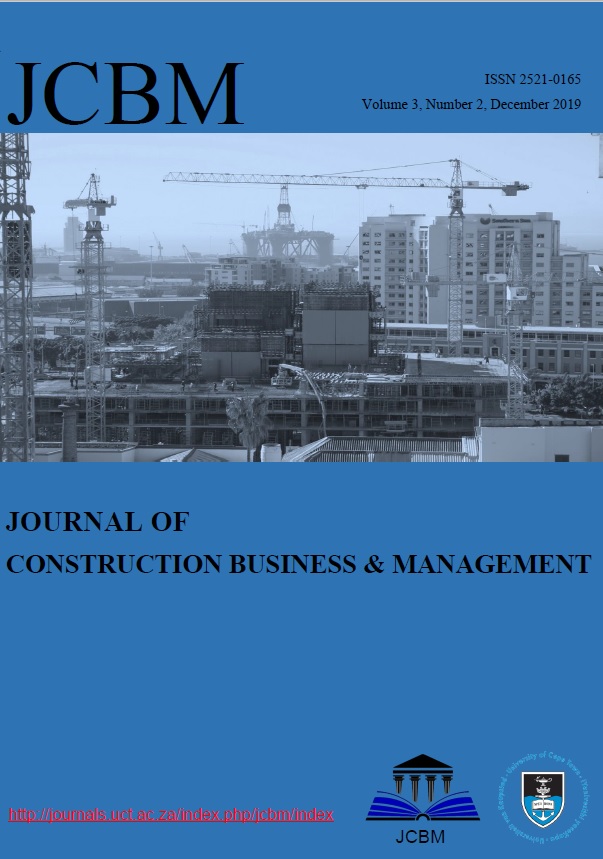 How to Cite
Ajayi, O. O., Koleoso, H., Ajayi, M., & Faremi, O. (2019). Maintenance Performance of Prison Facilities in Southwestern Nigeria. Journal of Construction Business and Management, 3(2), 26-34. https://doi.org/10.15641/jcbm.3.2.584
Copyright (c) 2019 O O Ajayi, H Koleoso, M Ajayi, O Faremi
This work is licensed under a Creative Commons Attribution-NonCommercial-ShareAlike 4.0 International License.
The JCBM is an open access journal, and the authors (copyright owners) should be properly acknowledged when works are cited. Authors retain publishing rights without any restrictions.