Frameworks for Material Waste Minimization on Nigerian Building Projects
Abstract
A novel approach to solving waste incidence of materials on building projects is to framework the issues and processes that are involved in its minimization. The objective of the study is to develop and validate frameworks for material waste minimization in building projects. This study is a survey research in South West Nigeria. Define, Review, Identify, Verify and Execute (DRIVE) and Construction Process Improvement Methodology (CPIM) techniques were used to develop the proposed frameworks; while the validation was done by face validity and scoring model approaches. A pilot validation was done by five academics while the main validation involved 17 potential end users. Data were analysed with frequency and percentage. The study reveals that the frameworks are clear, informative, appropriate and applicable. It is concluded that the frameworks can minimize material waste at every stage of building projects. It is therefore recommended that the proposed FMWM should be adopted by all stakeholders to prevent and minimize material waste at all stages of building projects.
Keywords: CPIM, DRIVE, Frameworks, Minimization, Prevention, Waste.
Downloads
Download data is not yet available.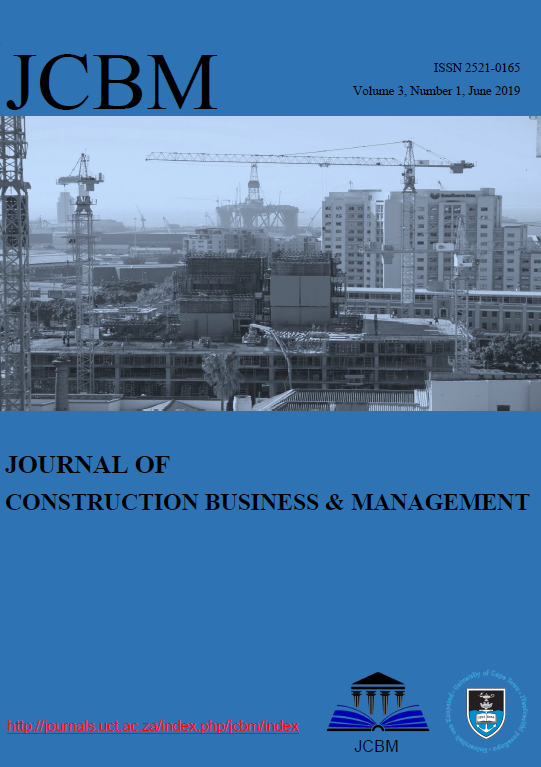 How to Cite
Oladiran, O. J., Ogunsanmi, O. E., & Dada, M. O. (2019). Frameworks for Material Waste Minimization on Nigerian Building Projects. Journal of Construction Business and Management, 3(1), 45–61. https://doi.org/10.15641/jcbm.3.1.593
License
Copyright (c) 2019 Olatunji J Oladiran, Olabode E Ogunsanmi, Martin O Dada
This work is licensed under a Creative Commons Attribution-NonCommercial-ShareAlike 4.0 International License.
The JCBM is an open access journal, and the authors (copyright owners) should be properly acknowledged when works are cited. Authors retain publishing rights without any restrictions.