Effect of Management Strategies in Entrenching Organisational Safety Culture in the Electricity Industry of Zambia
Abstract
Entrenching safety cultural aspects is one of the functional areas within the management system that underlines various strategies. A number of investigations in the electricity industry revealed that a deficiency of organisational safety culture is one of the underlying causes of accidents. This study sought to determine management strategies that impact organisational safety culture in the electricity industry in Zambia. The objectives underpinning the study include establishing management strategies that affect organisational safety culture, assessing worker's knowledge on safety, health and environmental (SHE) programs, and ascertain the effect of organisational safety culture on workers attitude towards safety. Various literature was reviewed on management strategies. The research used the quantitative method in which descriptive and analytical survey methods using one-way analysis of variance (ANOVA) as inferential statistics. A structured questionnaire to obtain data was designed, and the multiple linear regression method to analyse data in order to meet the research objectives was applied. The study selected 230 workers from companies within the electricity industry using simple random sampling while 170 questionnaires were completed, giving a response rate of 73.91%. Findings revealed that workers understand organisational safety culture and SHE processes; while management strategies such as recruitment, and rewards and compensation, had a significant influence on organisational safety culture. The study concluded that management commitment and their involvement in the safety aspects of the electricity industry is not just a benevolent obligation, but it compels and motivates the workers they protect to achieve organisational objectives and goals. Furthermore, the study recommended the restructuring of processes during induction and orientation to maintain high levels of safety at workplaces in order to record few workplace accidents.
Keywords: Electricity Industry, Entrenching, Management Strategies, Organisational Safety Culture
Downloads
Download data is not yet available.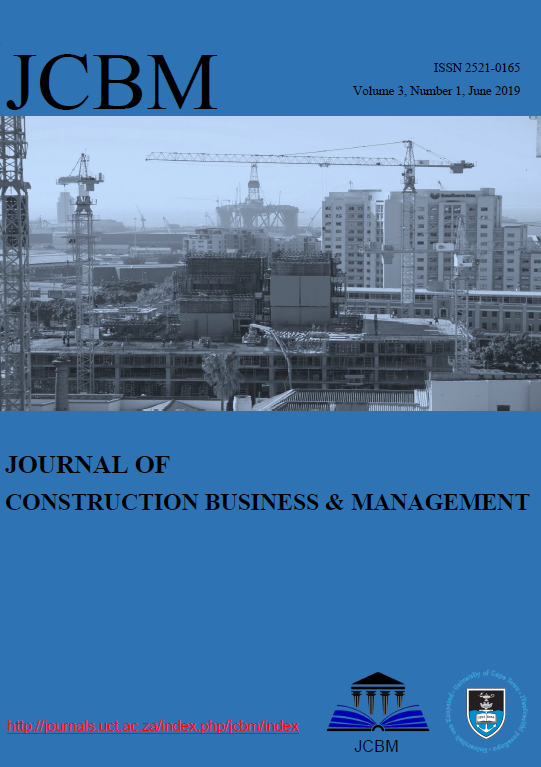 How to Cite
Mwanaumo, E. M., & Mambwe, M. (2019). Effect of Management Strategies in Entrenching Organisational Safety Culture in the Electricity Industry of Zambia. Journal of Construction Business and Management, 3(1), 27–37. https://doi.org/10.15641/jcbm.3.1.598
License
Copyright (c) 2019 Erastus M Mwanaumo, Mwewa Mambwe
This work is licensed under a Creative Commons Attribution-NonCommercial-ShareAlike 4.0 International License.
The JCBM is an open access journal, and the authors (copyright owners) should be properly acknowledged when works are cited. Authors retain publishing rights without any restrictions.