The Construction Subcontracting Policy Framework for Developing Local Contractors Capacities in Zambia
Abstract
The Zambian construction industry, like many developing countries, has over the past years experienced an imbalance in the distribution of works between local and foreign contractors. In a bid to bridge the gap, the Government of the Republic of Zambia in 2012 introduced a policy on subcontracting which provided for mandatory subcontracting of 20% of all major contracts to local contractors. There has however been outcries from subcontractors that the policy has not been beneficial. The study sought to investigate subcontracting practices in order to develop a framework for building capacity for local contractors within the construction industry in Zambia. The objective of the study was to explore the regulatory requirements on subcontracting in Zambia and establish the 20% subcontracting policy inadquescies . The study adopted the mixed-method approach in which both semi-structured interviews (main contractors, sub-contractors consultants and project owners) and survey questionnaire were adopted for primary data collection. The questionnaire was distributed to 70 respondents and a response rate of 71% was attained. The investigation was conducted on 40 projects implemented in Zambia between 2012 and 2015. The study established four major deficiencies of the policy which include: subcontractors do not participate early in the procurement process and are introduced after contract is awarded; no clear guidelines on the implementation of the policy; subcontractors do not take part in determining works; and it is difficult to grow capacity of local contractors using the 20% subcontracting policy because contractors engaged to be main on projects do not show interest in developing and building local contractors capacity due to lack of incentives. A framework was developed that can be used to meet the study objectives and that of the policy in subcontracting and reduce the current inadequacies. The study recommended the use of the proposed framework by the government to reduce the current gaps.
Downloads
Download data is not yet available.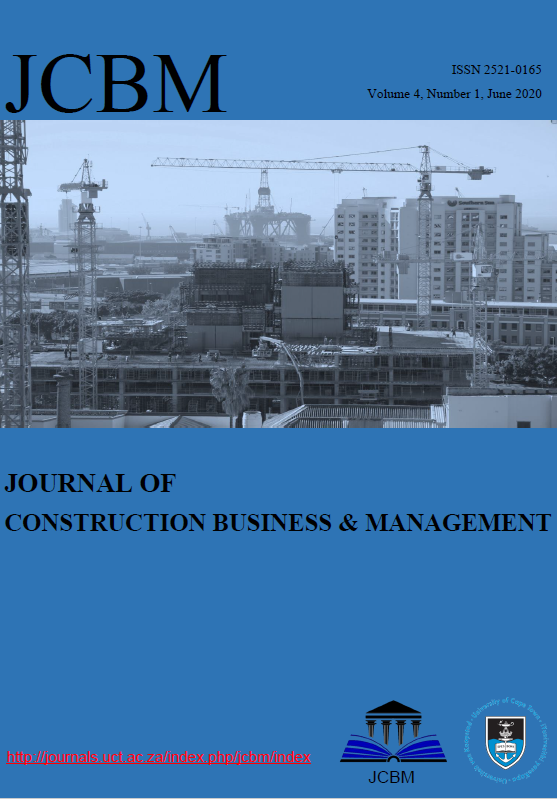 How to Cite
Mambwe, M., Mwanaumo, E. M., Phiri, F. ., & Chabota, K. (2020). The Construction Subcontracting Policy Framework for Developing Local Contractors Capacities in Zambia. Journal of Construction Business and Management, 4(1), 60–70. https://doi.org/10.15641/jcbm.4.1.644
License
Copyright (c) 2020 M. Mambwe, E. M. Mwanaumo, F. Phiri, K. Chabota
This work is licensed under a Creative Commons Attribution-NonCommercial-ShareAlike 4.0 International License.
The JCBM is an open access journal, and the authors (copyright owners) should be properly acknowledged when works are cited. Authors retain publishing rights without any restrictions.