Factor's Influencing Contractors Risk Attitude in the Malaysian Construction Industry
D. M. Taofeeq

student

A. Q. Adeleke
Abstract
The Malaysian construction industry often acts as a vehicle that motivates' the development of the nation's economy. The industry is commonly referred to as a catalyst for development. However, poor performance in terms of productivity and quality systems has been the main issues of discussion from most of the government reports. In order to improve performance in the Malaysian construction industry, the introduction of the Occupational Safety and Health Act (OSHA) in 1994 has made all industries in Malaysia to identify hazards, conduct risk assessment and control those risk and at the same time implement an integrated system to ensure consistency and better performance of projects in Malaysian industries. Therefore, in this paper, the ranking of specific factors affecting contractors' risk attitudes in the Malaysian construction industry was assessed. A review of relevant literature was undertaken to identify the factors influencing contractors' risk attitudes. The study found that the four leading specific factors influencing contractors risk attitude in the Malaysian construction industry are; Project Related Factors, Working capital, Human-Related Factors, and External Environment. The study confirms the individual factors that affect the contractor's risk attitudes. Knowledge of these factors will facilitate contractors' decision-making process and serve as a useful reference for further studies in the field of construction project management.
Keywords: Contractor's risk attitude, Malaysia, Risk attitude, Risk management
Downloads
Download data is not yet available.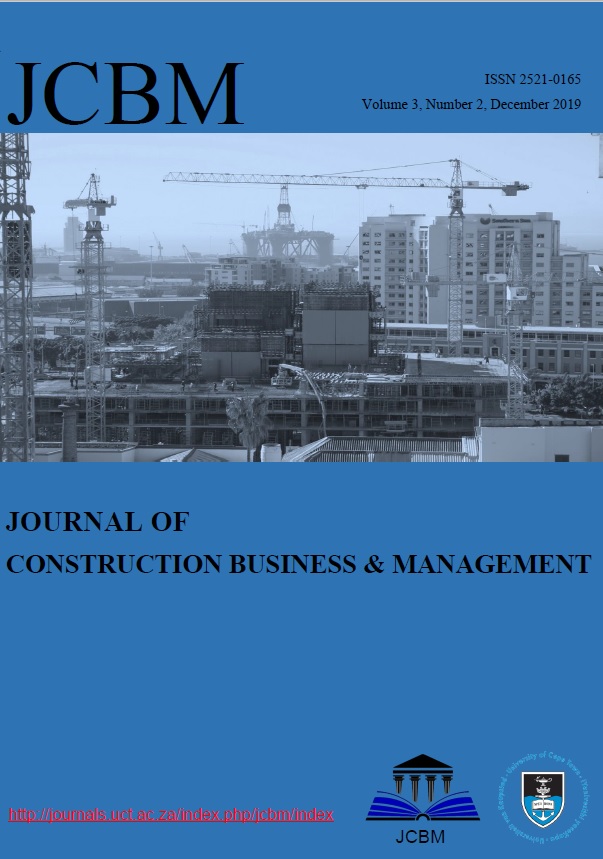 How to Cite
Taofeeq, D. M., & Adeleke, A. Q. (2019). Factor's Influencing Contractors Risk Attitude in the Malaysian Construction Industry. Journal of Construction Business and Management, 3(2), 59-67. https://doi.org/10.15641/jcbm.3.2.668
Copyright (c) 2019 D.M Taofeeq, A.Q Adeleke, Chia-Kuang LEE
This work is licensed under a Creative Commons Attribution-NonCommercial-ShareAlike 4.0 International License.
The JCBM is an open access journal, and the authors (copyright owners) should be properly acknowledged when works are cited. Authors retain publishing rights without any restrictions.