Barriers to the Effective Regulation of the Building Construction Industry: An Empirical Analysis
W. O. Omollo

Kisii University
Abstract
This study investigates key barriers to the effective regulation of the building construction industry in Kenya, a case study of Kisii Town. It was guided by the Public Interest Theory of Regulation, which provided the underpinning elucidating why the building construction industry in Kenya needs regulation. The target population comprised 84 registered building contractors with a sample size of 66 selected using simple random sampling by application of random number table. As regards limitation, the study does not measure the extent of quality assurance within the construction industry, but rather delve on the key factors impeding its effective regulation. The research findings show that ineffective regulation of the construction industry in Kisii Town was prompted by the joint activities of building development contractors and limitations of the National Construction Authority (NCA) (the regulator). Regarding the activities of building contractors, identified barriers included failure to refer to key legislation that regulates the construction industry, failure to obtain statutory approvals of building development, and laxity to invite supervision of ongoing projects by planning authorities. Conversely, factors elucidating why NCA was not successfully regulating the construction industry included inadequate multi-sectoral coordination, inadequate surveillance, and limited sensitization of key stakeholders. Drawing from these findings, the study recommends regular monitoring and enhanced enforcement that would promote compliance and sensitization of contractors with applicable standards and regular inspections of ongoing projects. Also, establishing a coordinating committee to harmonize institutions that deal with development control.
Keywords: Construction Industry, Kenya, Kisii Town, Regulation
Downloads
Download data is not yet available.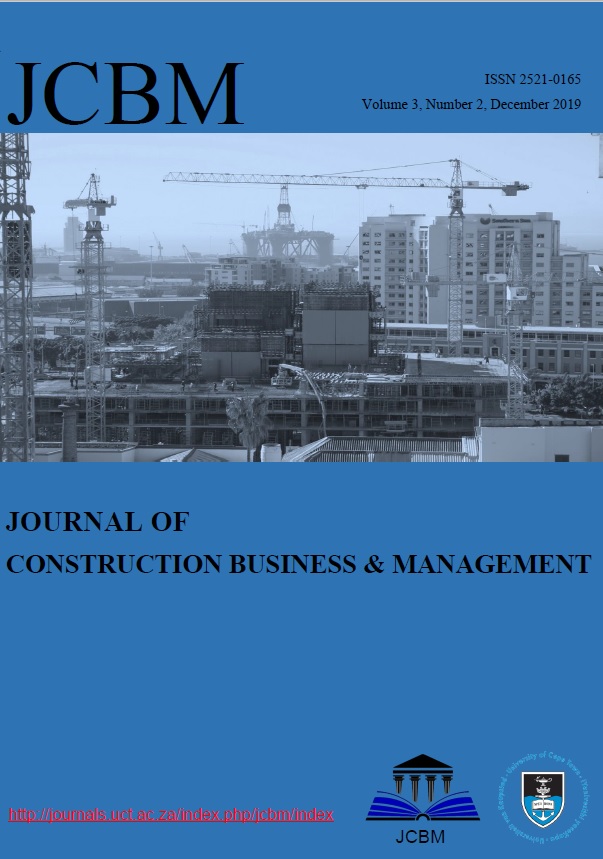 How to Cite
Omollo, W. O. (2019). Barriers to the Effective Regulation of the Building Construction Industry: An Empirical Analysis. Journal of Construction Business and Management, 3(2), 49-58. https://doi.org/10.15641/jcbm.3.2.745
Copyright (c) 2019 Wilfred Ochieng Omollo
This work is licensed under a Creative Commons Attribution-NonCommercial-ShareAlike 4.0 International License.
The JCBM is an open access journal, and the authors (copyright owners) should be properly acknowledged when works are cited. Authors retain publishing rights without any restrictions.