Consultants` Perspectives of Survival Strategies for Small and Medium Construction Firms at Infancy Stage
Abstract
This study examines survival strategies for Small and Medium Construction Firms (SMCFs) at infancy stage as well as the factors affecting the adoption of these strategies. The study area is Uyo Metropolis in Akwa Ibom State, Nigeria. The study employed stratified random sampling technique to select a sample for the study. Primary data obtained from 103 validated questionnaires, administered to professionals in the built environment are analysed using percentage, mean score and Kruskal Wallis test. Results reveal that all the strategies examined in this study are significant for the survival of SMCFs at infancy stage; dominant among the factors are: innovativeness, required skills, willingness to take risk, entrepreneurial attitudes and behaviours, entrepreneurial organization structure and strategies, and financial resource management. The results further reveal that the dominant factors affecting the adoption of survival strategies for SMCFs at infancy stage are: availability and access to finance, the poor state of the country's infrastructure, poor managerial/executive capacity of the implementing agencies, characteristics of entrepreneurs and failure to adapt to the changing business environment. The study recommends that in addition to regular training to acquire required skills for effective management of the firms, SMCFs should also adopt any or a combination of the strategies highlighted, to survive in the current dynamic and competitive construction environment.
Downloads
Download data is not yet available.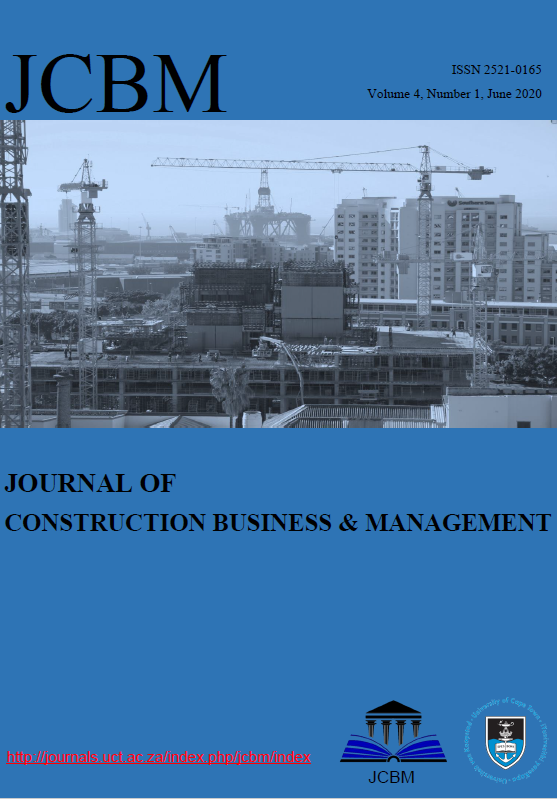 How to Cite
Adu, E. T., Lamptey-Puddicombe, A. D., & Opawole, A. (2020). Consultants` Perspectives of Survival Strategies for Small and Medium Construction Firms at Infancy Stage. Journal of Construction Business and Management, 4(1), 34–47. https://doi.org/10.15641/jcbm.4.1.792
License
Copyright (c) 2020 E. T. Adu, A. D. Lamptey-Puddicombe, A. Opawole
This work is licensed under a Creative Commons Attribution-NonCommercial-ShareAlike 4.0 International License.
The JCBM is an open access journal, and the authors (copyright owners) should be properly acknowledged when works are cited. Authors retain publishing rights without any restrictions.