Exploring the Concept of Social Licence in the Construction Industry of a Developing Country
J. C. DANKU

DEPARTMENT OF CONSTRUCTION TECHNOLOGY AND MANAGEMENT, KWAME NKRUMAH UNIVERSITY OF SCIENCE AND TECHNOLOGY, KUMASI, GHANA
Abstract
A construction company must acquire regulatory permits and licences before granting project approval. The formal processes do not embrace all the stakeholders. While regulatory permits or licences are granted by government, local and statutory authorities, there is also the need for the hosting or local community to consent to a firm's activities to complete the symbiotic relationship. This commitment of residents towards acceptance, approval and support for a project to exist within their community is known as a social licence. This paper investigates the application of the concept of social licence in the Ghanaian construction industry. A total of 102 questionnaires were used in the analysis. Findings based on the questionnaire survey of contractors, project managers, quantity surveyors, engineers and architects indicate that social licence is an emerging concept in the Ghanaian construction industry. The result also shows the limited grasp and restricted application of the concept. Only 37% of the professionals with some level of familiarity with the concept admitted to using the term social licence or its concept in the construction industry. There is a need for industry sensitisation and education to harness the benefits a company derives from acquiring a social licence.
Keywords: Community; Construction industry; Construction professionals; Ghana; Social licence.
Downloads
Download data is not yet available.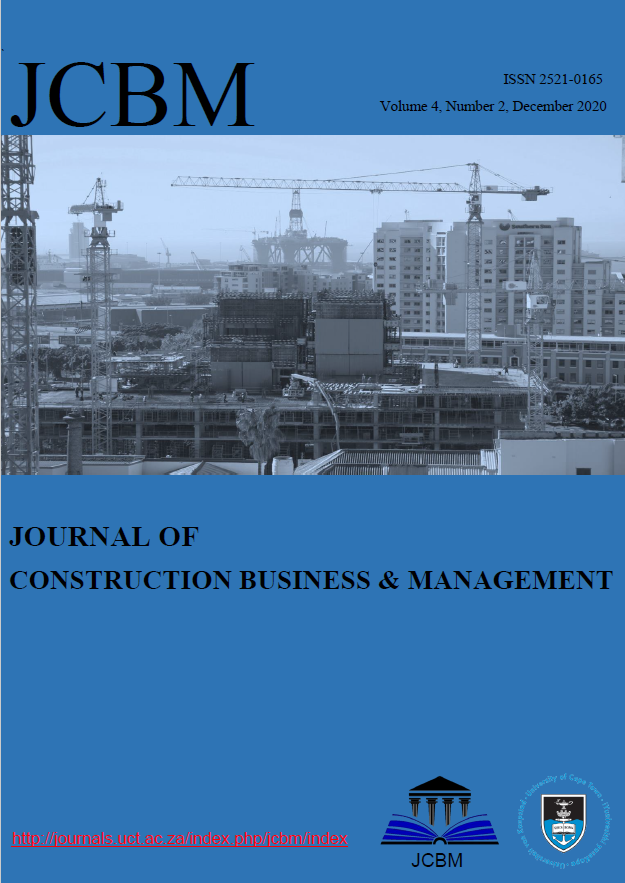 How to Cite
DANKU, J. C. (2020). Exploring the Concept of Social Licence in the Construction Industry of a Developing Country. Journal of Construction Business and Management, 4(2), 25-33. Retrieved from https://journals.uct.ac.za/index.php/jcbm/article/view/851
Copyright (c) 2020 J. C. DANKU
This work is licensed under a Creative Commons Attribution-NonCommercial-ShareAlike 4.0 International License.
The JCBM is an open access journal, and the authors (copyright owners) should be properly acknowledged when works are cited. Authors retain publishing rights without any restrictions.