Construction quality process implementation as a source of competitive advantage in small and medium-sized construction projects
S Nyakala

Tshwane University of Technology

J Pretorius

A Vermeulen
Abstract
It is generally accepted that construction quality process implementation improves construction project performance through the systematic application of quality practices. It is equally established that current quality management systems, particularly compliance management, are essential for Small and medium-enterprises (SMEs) seeking effective completion of road-building infrastructure. Despite the opportunities offered by these quality practices, there are potential pitfalls. As low-cost economies proliferate, South African construction SMEs are under increasing pressure to be more flexible and innovative. The study examines the factors affecting the quality of work produced by construction SMEs through a regulatory road building procedure, namely design, construction, and execution. A questionnaire survey was conducted among 165 SME contractors, designers, and their experience was recorded of construction quality standards and performance improvement on completed work in the public sector in South Africa. A combination of descriptive and inferential statistics was used to analyse the data. The empirical findings established that five construction quality process factors affect the quality of road infrastructure projects undertaken by construction SMEs. These factors comprise construction process and design; construction quality management at the site level; the development and implementation of quality procedures and requirements; quality benchmarking issues; continuous improvement and communication. This study is of value to designers/consultants and managers in the construction SME sector as it helps to establish the factors affecting the quality of road infrastructure projects. Managers in analogous environments may also use the results of this study as a benchmark for competitive advantage. The results also provide a guideline for the successful construction quality implementation in small and medium-sized construction projects.
Keywords: Construction quality; Continuous improvement; Design; Performance; Quality management.
Downloads
Download data is not yet available.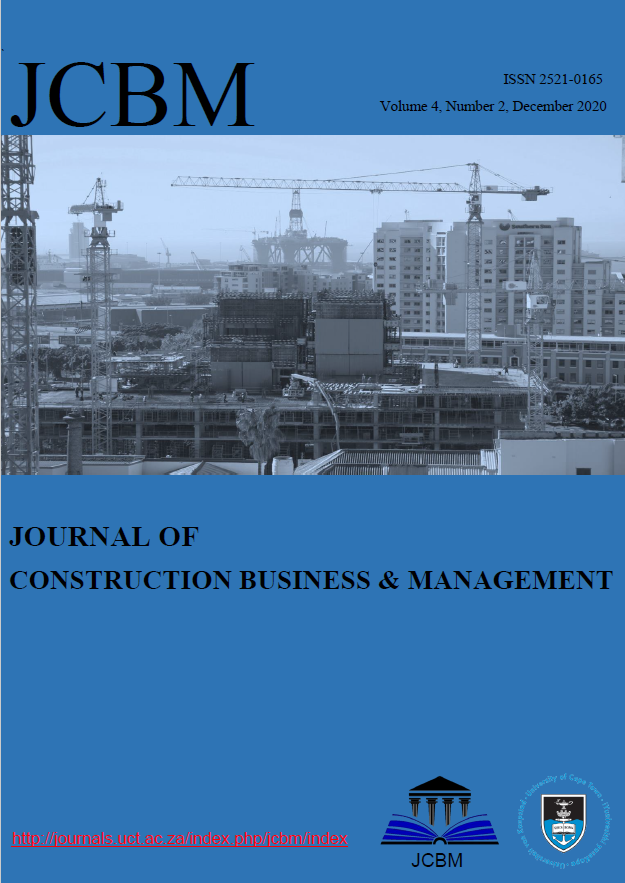 How to Cite
Nyakala, S., Pretorius, J., & Vermeulen, A. (2021). Construction quality process implementation as a source of competitive advantage in small and medium-sized construction projects. Journal of Construction Business and Management, 4(2), 46-54. Retrieved from https://journals.uct.ac.za/index.php/jcbm/article/view/862
Copyright (c) 2021 Stephen Kgashane Nyakala
This work is licensed under a Creative Commons Attribution-NonCommercial-ShareAlike 4.0 International License.
The JCBM is an open access journal, and the authors (copyright owners) should be properly acknowledged when works are cited. Authors retain publishing rights without any restrictions.