Diagnosing the Causes of Quackery in Quantity Surveying Practice in Lagos State, Nigeria
Abstract
The purpose of this paper is to examine the causes of quackery in quantity surveying practice to address the menace for enhanced service delivery. Using survey research design, primary data were collected through the administration of structured questionnaires on quantity surveyors in the 125 registered quantity surveying firms in Lagos State, Nigeria. The respondents were asked to rate the identified 34 causes of quackery in quantity surveying practice on a 5-point Likert scale. The elicited data were analysed using mean score analysis. Factor analysis was, after that, used to explore and detect the underlying relationship among the identified variables and categorise them into key factors. The results of the mean score statistics identified 32 important causes of quackery in quantity surveying practice, with the four most important ones being an unwillingness to seek professional advice and consultation, unwillingness to pay for professional services, lack of effective systems of punishment for quacks and inadequate monitoring by the quantity surveying professional association and regulatory body. It was concluded that the causes of quackery in quantity surveying are multidimensional and can be narrowed down to unethical practices, client engagement, job security, regulatory and corruption-related issues. The identified causes of quackery in quantity surveying practice will be useful in formulating policy and serve as future research agenda towards eradicating the menace and engendering an enhanced service delivery.
Keywords: Causes of quackery; Nigeria; Quackery; Quantity surveying; Service delivery.
Downloads
Download data is not yet available.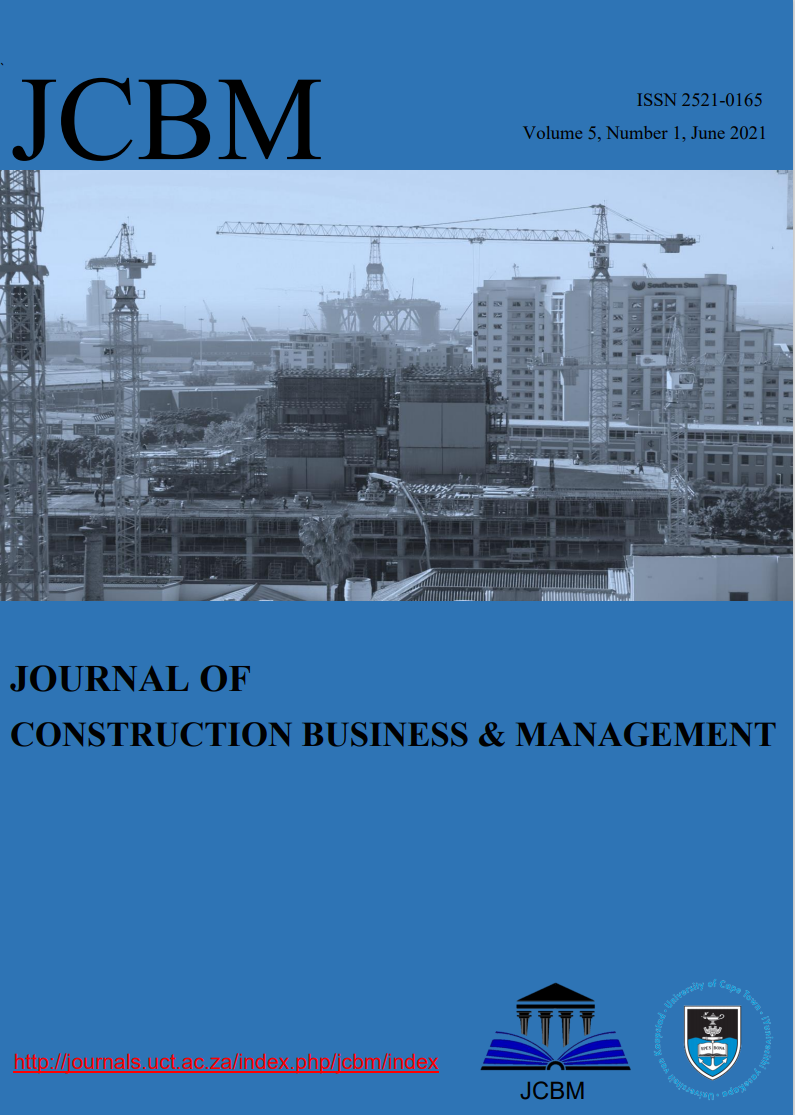 How to Cite
Dada, J. O., & Bamigboye, G. O. (2021). Diagnosing the Causes of Quackery in Quantity Surveying Practice in Lagos State, Nigeria. Journal of Construction Business and Management, 5(1), 28–37. https://doi.org/10.15641/jcbm.5.1.950
License
Copyright (c) 2021 J. O. Dada, G. O. Bamigboye
This work is licensed under a Creative Commons Attribution 4.0 International License.
The JCBM is an open access journal, and the authors (copyright owners) should be properly acknowledged when works are cited. Authors retain publishing rights without any restrictions.