A State Legitimation Approach of Reserved Built Environment Professional Work - A Case for South Africa – Part 1
T. E. Manchidi

University of South Africa

P. D. Rwelamila

University of South Africa
Abstract
This paper borrows from the lenses of the sociology of professions, sociology of science and temporary project organisations and construction reform to examine state legitimation of reserved built environment (BE) professional work as the first part of a two-part study. In doing so, it examines the growth of professions as a consequence of the division of expert labour evolving to fill in knowledge gaps created by emergent social forces as other knowledge areas are rendered less relevant. It shows how professional work negatively impacts on the delivery efficiencies in the project as a temporary organisation. In making this argument, it draws on the jurisdictional theory of professions to illustrate the relational and interactional relationship of professions in construction projects. To help focus on collaboration, a preliminary conceptual model for the legitimation of professions at the macro (policy) level is developed to explain how boundary margins keep professions relational, and how the dynamics of boundary work unfold in a territorial space in a project (meso) environment. Finally, it provides the scope of the second part of the study (the field study) by formulating the main research objective and research question and their respective specific research objectives and research questions, respectively.
Keywords: Built Environment Professions, Division of Expert Labour, Jurisdictional Boundaries, Legitimation, Professional Work, Temporary Organisations
Downloads
Download data is not yet available.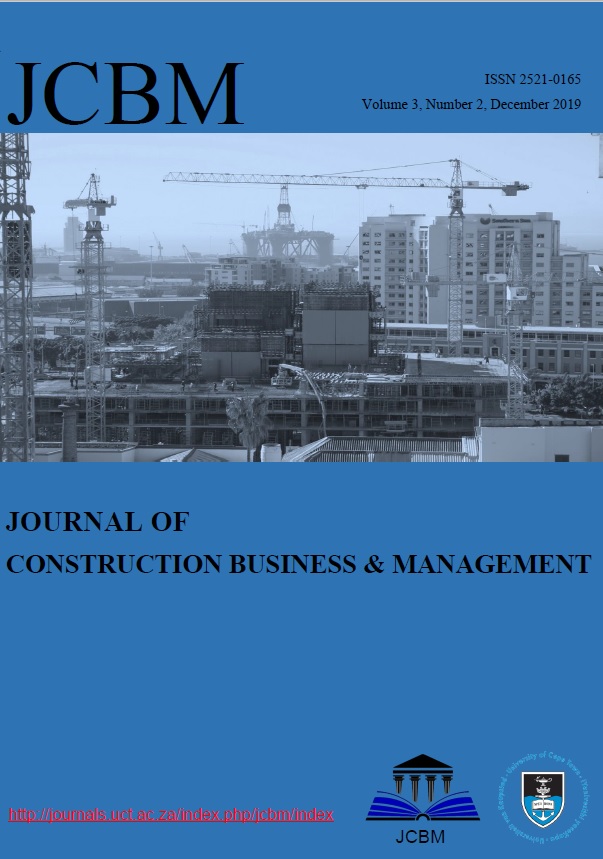 How to Cite
Manchidi, T. E., & Rwelamila, P. D. (2019). A State Legitimation Approach of Reserved Built Environment Professional Work - A Case for South Africa – Part 1. Journal of Construction Business and Management, 3(2), 35-48. https://doi.org/10.15641/jcbm.3.2.740
Copyright (c) 2019 P Rwelamila, T E Manchidi
This work is licensed under a Creative Commons Attribution-NonCommercial-ShareAlike 4.0 International License.
The JCBM is an open access journal, and the authors (copyright owners) should be properly acknowledged when works are cited. Authors retain publishing rights without any restrictions.