The Challenges of Closing Construction Projects Final Accounts in Botswana Local Authorities
Abstract
Anecdotal information in the construction industry in Botswana indicated that the process of closing financial accounts for construction projects within a stipulated period is inefficient and ineffective. This is a serious industry problem because a project with an unclosed account is not a successful project as there are unfinished issues and claims left in abeyance to the detriment of both the client and contractor. This motivated a study aimed at investigating this aspect, including identifying the major causes of delays in formally closing final accounts of construction projects in local authorities. A multimethod approach consisting of a review of project documents which were beyond the end of the defect liability period were used in the study. Also, a questionnaire survey was administered to parties dealing with construction projects in the selected local authorities. Lastly, a focus discussion was held with key stakeholders who implement projects in some selected local authorities. Results indicated that while the final account closure process was inefficient (as only 42% of the accounts which were closed were finalised in the stipulated contractual time). Secondly, it was marginally effective (as only 54% of the sampled project accounts were closed). Common reasons for inefficiency and ineffectiveness include (i) contractors abandoning the project when they realise that the cost of rectifying the defects far exceeds the outstanding balance; (ii) clients taking too long to agree and approve final accounts; and (iii) loss of information when key personnel leave the project on the contractor's side before the final account is finalised. Despite the limitation of considering a selected number of local authorities' projects, the findings have confirmed anecdotal information circulating in the industry about the substantial numbers of project accounts that are usually left unclosed. The following recommendations based on the study results are made. That all adopted contract conditions be modified to focus on nipping the challenge in the bud as well as deterring instrument to future defaulters. The suggested modification: 'it shall be mandatory for contractors to bring the project under tender to a formal closure through final account documentation within a specified period, defaulting contractors to be blacklisted from future contract awards in Botswana LAs'. Ordinarily, since contractors can hardly suffer financial losses, the paper suggests that consultants and clients should objectively entertain contractors' claims arising from defects rectifications in the liability period. This is provided such defects were neither caused by poor materials nor are traceable to poor workmanship. These hopefully will mitigate the challenge if followed.
Downloads
Download data is not yet available.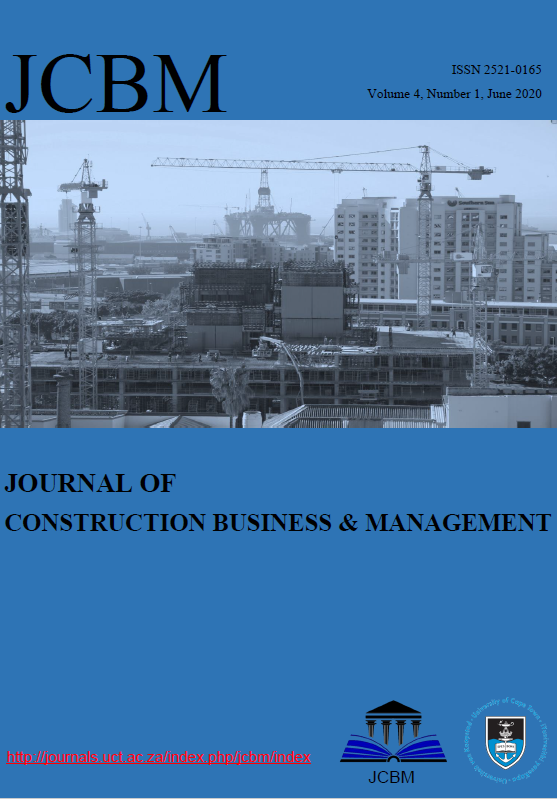 How to Cite
Ssegawa, J. K. ., Rwelamila, P. D., & Mogome, M. G. (2020). The Challenges of Closing Construction Projects Final Accounts in Botswana Local Authorities. Journal of Construction Business and Management, 4(1), 13–23. https://doi.org/10.15641/jcbm.4.1.775
License
Copyright (c) 2020 P. D. Rwelamila, M. G. Mogome
This work is licensed under a Creative Commons Attribution-NonCommercial-ShareAlike 4.0 International License.
The JCBM is an open access journal, and the authors (copyright owners) should be properly acknowledged when works are cited. Authors retain publishing rights without any restrictions.