Editorial
Abstract
Welcome to the eight-issue of the Journal of Construction Business and Management. This edition of the journal presents scholarly discussions on theoretical and empirical challenges confronting best practices and policies in construction businesses and projects. The intention is to understand the practice and theoretical lens used in its explanation or interpretation. This edition of the journal covers the following subjects: subcontracting processes, contingency management, social license, risk measurement, project success, quality process implementation and competitive advantage. The issue contains five articles written by eight scholars based in Ghana, India, Nigeria, and South Africa.
The first paper by Akinwale and Olusanya (2020) examines subcontracting processes' influence on wages and workloads in the construction industry. The study found that subcontracting processes significantly influenced workers' participation in wage determination and workloads. The findings suggest that working in a subcontracting system alienates subcontracted workers from the determination of wages and workloads and thereby showing the need for adequate protection for these workers. The second paper by Maniar (2020) evaluates the current state, the issues faced in contingency management and its effectiveness in curbing cost overruns. It seems inevitable that contingency management could impact cost overrun problems. Not so reveals the study results, which shows that contingency considerations were only useful in accommodating cost overrun problems in 18% of projects studied. Based on these findings, the study recommends that contingency be estimated based on the scientific approach to addressing project risks instead of the commonly used subjective approach.
Perhaps the most compelling argument is why a construction company must acquire regulatory permits that embrace all stakeholders before a construction project is approved as outlined in Danku (2020). The paper highlights that not all formal processes embrace all stakeholders such as the hosting community who need to consent to a firm's activities to complete the symbiotic relationship. The study found a limited understanding and restricted application of the concept of social licence – the commitment of residents towards acceptance, approval and support for a project to exist within a community, by construction professionals. The paper recommends industry sensitization and education to harness a company's benefits from acquiring a social licence.  The fourth paper by Renault, Agumba and Ansary (2020) examines the influence of risk management on the project success of Small and Medium Enterprises (SMEs). Results reveal that risk management significantly influences construction SMEs' project success by delimiting the risk management criteria to be adopted, establishing the level of acceptable risk and risk timeframe relevant to risk effect and risk likelihood. The paper recommends that the management of SMEs and construction industry professionals adopt risk management to manage their project risks to accomplish project objectives effectively. 
Although it is generally accepted that construction quality process implementation improves construction project performance, there is limited research into the factors affecting the quality of the road infrastructure projects produced by SMEs. The fifth paper by Nyakala (2020) investigates these factors. The study established that five construction quality process factors affect the quality of road infrastructure projects undertaken by construction SMEs. These factors comprise construction process and design; construction quality management at the site level; the development and implementation of quality procedures and requirements; quality benchmarking; continuous improvement and communication. The results provide a guideline for the successful construction quality implementation by designers/consultants and managers in the construction SME sector. It helps establish the factors affecting road infrastructure projects' quality and a benchmark for competitive advantage.
Overall, these articles should spark debate and force professionals, researchers and policymakers to think differently about the construction project and business performance while inspiring new practices. I acknowledge all authors who submitted papers for consideration. I also value the contributions and unrelenting efforts of the JCBM editorial board members and panel of reviewers in ensuring that manuscripts are of high quality and keeping the journal on the path to attaining the expected standard and quality. Criticisms, feedback and suggestions are welcome from readers on how to improve the quality of the journal. 
References:
 Akinwale, A. A., & Olusanya, O. A. (2020). Influence of Subcontracting Processes on Wages and Workloads in the Building Construction Industry in Nigeria. Journal of Construction Business and Management, 4(2), 1-10.
Maniar, H. (2020). Contingency Management in Indian Construction Projects. Journal of Construction Business and Management, 4(2), 11-24.
Danku, J. C. (2020). Exploring the Concept of Social Licence in the Construction Industry of a Developing Country. Journal of Construction Business and Management, 4(2), 25-33.
Renault, B. Y., Agumba, J. N., & Ansary, N. (2020). Correlation analysis between risk measurement and project success of small and medium contractors in Gauteng, South Africa. Journal of Construction Business and Management, 4(2), 34-45.
Nyakala, S. K. (2020). Construction quality process implementation as a source of competitive advantage in small and medium-sized construction projects. Journal of Construction Business and Management, 4(2), 46-54.
Downloads
Download data is not yet available.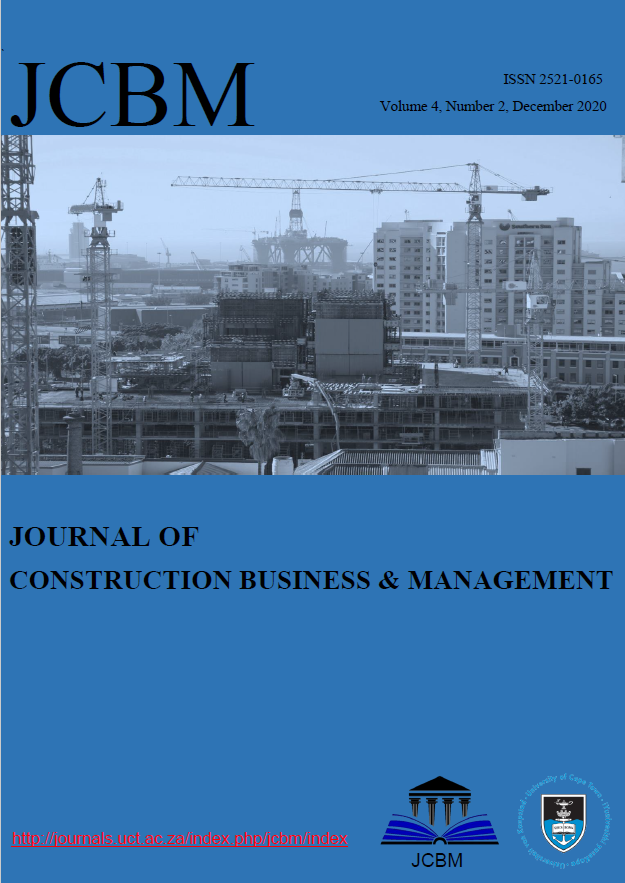 How to Cite
Windapo, A. (2021). Editorial . Journal of Construction Business and Management, 4(2). https://doi.org/10.15641/jcbm.4.2.1050
License
Copyright (c) 2021 Abimbola Windapo
This work is licensed under a Creative Commons Attribution-NonCommercial-ShareAlike 4.0 International License.
The JCBM is an open access journal, and the authors (copyright owners) should be properly acknowledged when works are cited. Authors retain publishing rights without any restrictions.