Exploring the Components of Cost on Construction Projects
Abstract
This study examines the components of construction projects and whether there are construction resources that are the key project constituents. The rationale for the study stems from the unexplained assumptions regarding the primary components responsible for increases in construction costs in South Africa, as South Africa lacks a national building cost database. The study adopts a qualitative research approach that employs a case studies of six new and six refurbished projects in obtaining the necessary data for use in answering the study objectives. The study found that the primary cost constituents of construction projects are materials and sub-contracted work, accounting for 63.69% and 74.6% of the value of renovation and new construction work respectively and on the average, the major materials by value are reinforcement, cement and filling, while Electrical Installation is the primary sub-contracting item by value. Based on these findings, the study concludes that the future levels of construction work can be predicted knowing levels of specialist sub-contractor costs and building material costs. The study recommends that the sub-contractor and material inputs into construction projects are carefully managed, both on the projects and the construction industry, to limit construction cost increases and cost overruns on projects. The study contributes to the literature on resource planning and control in construction.
Keywords: Cement, Construction Cost, Electrical Installation, Reinforcement, Specialist Sub-contractor.
Downloads
Download data is not yet available.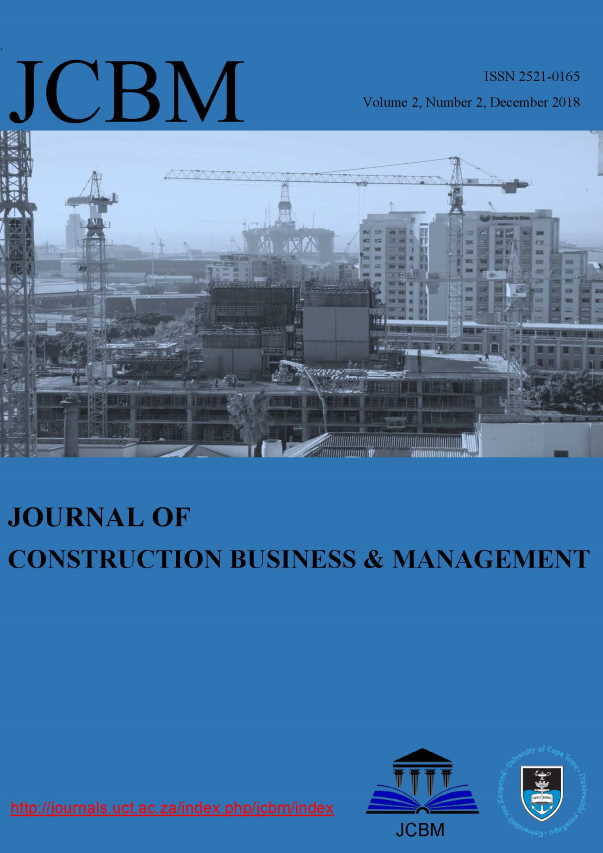 Downloads
How to Cite
Windapo, A., Moghayedi, A., Oliphant, D., & Adediran, A. (2018). Exploring the Components of Cost on Construction Projects. Journal of Construction Business and Management, 2(2), 42–50. https://doi.org/10.15641/jcbm.2.2.573
License
Copyright (c) 2018 Alireza Moghayedi
This work is licensed under a Creative Commons Attribution-NonCommercial-ShareAlike 4.0 International License.
The JCBM is an open access journal, and the authors (copyright owners) should be properly acknowledged when works are cited. Authors retain publishing rights without any restrictions.