Sustainable Improvement in Infrastructure Development in Africa: Which way forward?
Editorial June 2023
Abstract
Infrastructure development remains a key driver for improved productivity and economic growth globally, especially in developing countries. However, this encounters significant setbacks; hence, the United Nations has set relevant, sustainable development goals. This may explain why the authors of the articles in this regular issue focus on construction tender price inflation, Lean construction techniques, Crystalline Silica Dust, and Sustainable Construction Transition (SCT) Policy, demonstrating the challenges that infrastructure development globally faces but with a focus on developing countries. They argue that these challenges must be addressed for a sustainable improvement in infrastructure development in various African countries. For example, Musa et al. (2023) argues that a better understanding of the level of awareness and barriers to lean construction techniques in developing countries, such as Nigeria will bring about sustainable infrastructure. However the problems that developing countries face, including establishing a functional regulatory system that will facilitate such ambition has been established as complex by authors, for example, Umeokafor (2017). The question remains 'Which way forward? How does Africa ensure and sustain the development of its infrastructure? While the authors in this issue attempt to answer this question, they also highlight areas that require more attention for pragmatic and robust solutions.
Welcome to the eleventh issue of the Journal of Construction Business and Management and collection of four articles by 15 authors from Kenya, Nigeria, South Africa, and Zambia. Following this introduction is the discussion of the papers, followed by the conclusion.
Downloads
Download data is not yet available.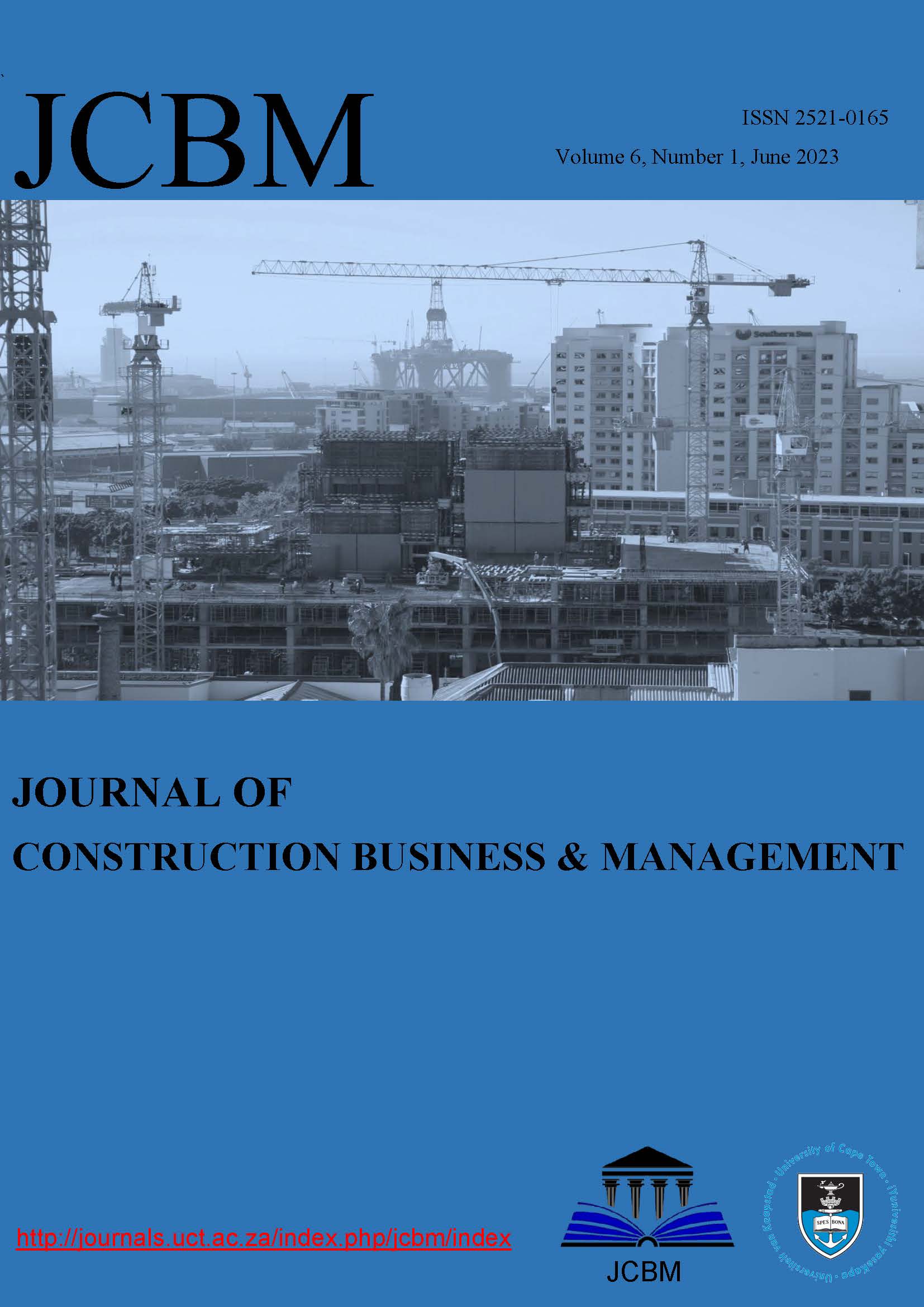 Additional Files
How to Cite
Windapo, A., & Umeokafor, N. (2023). Sustainable Improvement in Infrastructure Development in Africa: Which way forward? Editorial June 2023. Journal of Construction Business and Management, 6(1), v - ix. Retrieved from https://journals.uct.ac.za/index.php/jcbm/article/view/1384
License
Copyright (c) 2023 Abimbola Windapo; Nnedinma Umeokafor
This work is licensed under a Creative Commons Attribution 4.0 International License.
The JCBM is an open access journal, and the authors (copyright owners) should be properly acknowledged when works are cited. Authors retain publishing rights without any restrictions.