Editorial
Abstract
Welcome to the ninth issue of the Journal of Construction Business and Management. Globally, poor project performance has become an area of concern to researchers, construction practitioners and policymakers. The lack of understanding of the factors causing poor project performance is responsible for developing appropriate management strategies to address the problem. Achieving the successful completion of construction projects remain a pressing goal. Several approaches have emerged proposed to construct quicker, greener, sustainable, affordable buildings and infrastructure with better quality and low environmental impact. However, the problem of poor project performance persists.  
This journal edition presents scholarly discussions on theoretical and empirical challenges confronting practitioners and enterprises in the construction industry. The intention is to understand the practice and theoretical lens used in its explanation or interpretation. This journal edition covers the following subjects: quality management practices, environmental waste management practices, unethical practices, positive organisational behaviour, occupational eustress, theft and vandalism. The issue contains five articles written by twelve scholars based in Malawi, Nigeria, South Africa and the United Kingdom.
The first article by Odiba, Demain and Ruikar (2021) develops a contextual model for improving the culture of quality that can facilitate effective quality management practices in construction organisations. The designed model is a quality system that construction organisations can use in identifying some typical barriers hindering effective Quality Management System (QMS) implementation; assisting in the development of cultural values that can drive effective QMS implementation; undertaking effective QMS practices as they relate to construction and recognising the potential results and longer-term benefits obtainable from implementing effective QMS. The second article by Oladiran, Bayewun and Aderogba (2021) investigates the environmental waste management practices (EWMPs) of contractors on construction sites. Construction wastes pose challenges to contractors and clients on construction projects globally, with significant consequences on the environment. Contractors were aware of material storage strategies, ordering the exact amount of materials and checking deliveries properly. Based on these findings, the study recommends that construction firms, governments, and institutions involved in regulating the sector should sponsor the training of professionals on the various EWMPs towards improving their awareness.
The causes of quackery in quantity surveying practice are examined in the paper by Dada and Bamigboye (2021). The article highlights that the reasons for quackery in quantity surveying practice are multidimensional and can be narrowed down to unethical practices, client engagement, job security, regulatory and issues related to corruption.  The fourth paper by Ogwueleka and Ikediashi (2021) assesses the effects of positive organisational behaviour (POB) constructs on eustress amongst construction employees based on the rationale that organisational behaviour has been characterised by negativity than positively. The study focuses on identifying the areas that can propel positive mental health among construction employees to improve their performances and increase work productivity. Five constructs of POB models and five parameters of eustress that have a significant influence on eustress were identified and outlined in the paper.
The phenomenon of theft and vandalism on construction job sites in Sub-Saharan Africa has not been fully explored to guarantee the implementation of evidence-based security management practices to minimise losses and improve projects' profitability margins. The fifth paper by Simukonda and Kamwela (2021) investigated the management of theft and vandalism by large contractors to identify implementation issues that need improvement. The study found that the key security management practices used on construction sites include inventorying construction materials, tools and equipment, termination of employment for offenders, and reporting theft and vandalism to enforcement agencies.
I thank all authors who submitted papers for consideration. I also value the contributions and unrelenting efforts of the JCBM editorial board members and panel of reviewers in ensuring that manuscripts are of high quality and keeping the journal on the path to attaining the expected standard and quality. Finally, these articles should help inspire new ethical, waste and security management practices. As ever, if there is something you would like to share with us, compliments, criticisms, feedback and suggestions on how to improve the quality of the journal, don't hesitate to get in touch.
Abimbola Windapo PhD
Editor-in-chief
Downloads
Download data is not yet available.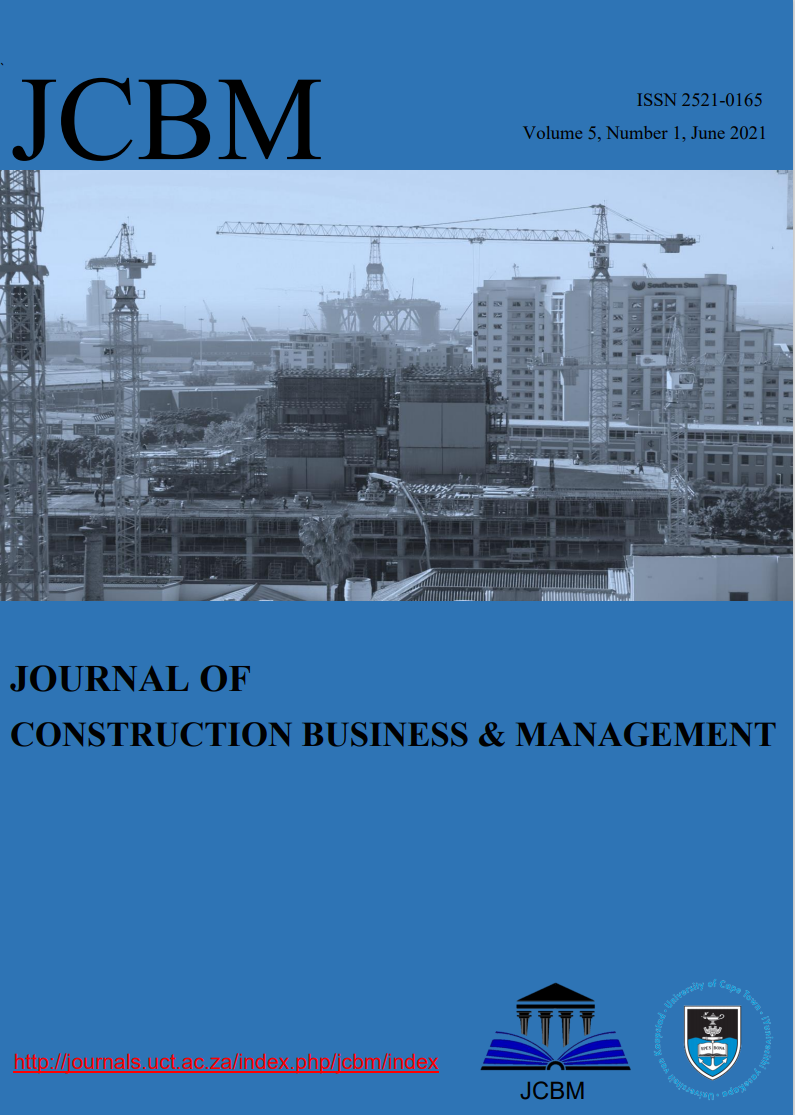 How to Cite
Windapo, A. (2021). Editorial. Journal of Construction Business and Management, 5(1). https://doi.org/10.15641/jcbm.5.1.1155
License
Copyright (c) 2021 Abimbola Windapo
This work is licensed under a Creative Commons Attribution 4.0 International License.
The JCBM is an open access journal, and the authors (copyright owners) should be properly acknowledged when works are cited. Authors retain publishing rights without any restrictions.