Editorial
Abstract
Welcome to the fourth issue of the Journal of Construction Business and Management. The themes covered in this issue are related to information technologies, building materials, risk factors and practices used in the procurement of construction projects. These papers expose the readers to innovative technologies, career advancement, risk factors, alternative building materials and cost analysis that fills the key gaps in knowledge. The issue contains five articles that were written by authors based in Nigeria and South Africa. Overall, twelve authors produced these articles aimed at strengthening the debate in and improving research undertaken in the area of the management of construction project organizations and delivery processes.
 The first paper by Olugboyega and Aina examines the Levels of Details of Building Information Models being generated by two hundred and eighty-two construction professionals in Lagos State, Nigeria using respondents driven sampling techniques. The authors found that the levels of generating BIM visualization purposes were very high in the study area. Paper two by Dada investigates the progression of Quantity Surveyors towards developing a career path framework for Quantity Surveyors in private practice in Nigeria. The proposed framework demonstrates the benchmark necessary for resolving common problems about career progression towards promoting harmonious working relationship and quality service delivery in Quantity Surveying practice. Leo-Olagbaye and Odeyinka's paper assessed the risk factors encountered in the delivery of road projects in Osun State, Nigeria. The study results revealed that the risk factors on these projects with a high likelihood of occurrence are the scope of work, defective design, error and rework and change in design, in order of magnitude. Paper four by Alade, Oyebade and Nzewi examines the availability and level of usage of Local Building Materials (LBM) in Ado-Ekiti, South Western Nigeria. Based on information provided by One Hundred and Fifty construction professionals, the research found that LBMs such as stone, timber, laterite, clay and bamboo were available in sufficient quantities in the study area for building construction. The final paper by Windapo, Moghayedi, Oliphant and Adediran explored the components of cost on construction projects in South Africa using a qualitative research approach. The study found that the primary cost constituents of construction projects were building materials and sub-contracted work, accounting for 63.69% and 74.6% of the value of renovation and new construction work respectively, and recommends that the sub-contractor and building material inputs in construction projects should be carefully managed to ensure that construction projects are completed effectively and efficiently.
Lastly, I wish to acknowledge all authors who submitted papers for consideration, members of the JCBM Editorial Board and panel of reviewers for their support, timeous review and comments that have helped in defining and improving the quality of manuscripts submitted to the JCBM for review. In conclusion, we welcome feedback and suggestions from readers towards improving the quality of the journal and in maintaining the integrity of the findings published.
Abimbola Windapo PhD
Editor-in-chief
Downloads
Download data is not yet available.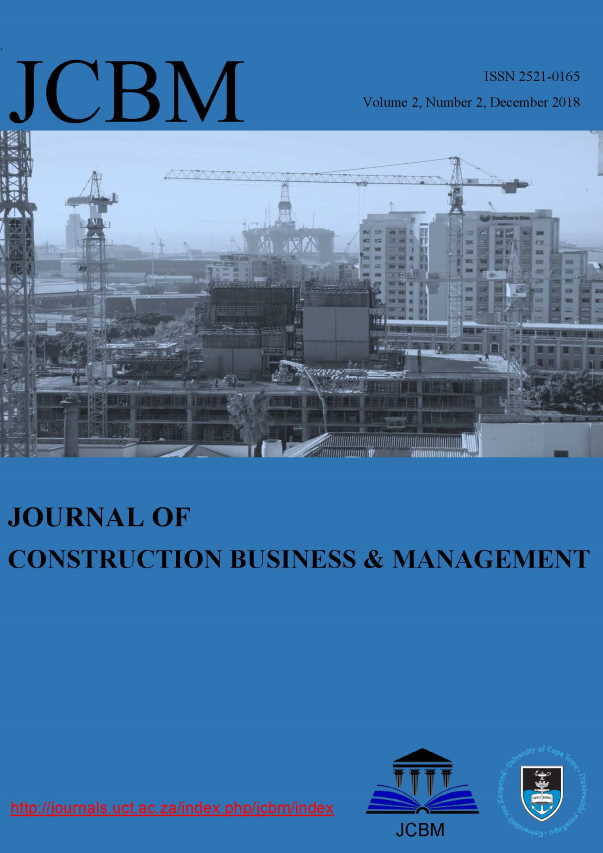 How to Cite
Windapo, A. (2018). Editorial. Journal of Construction Business and Management, 2(2). https://doi.org/10.15641/jcbm.2.2.636
License
Copyright (c) 2018 Abimbola Windapo
This work is licensed under a Creative Commons Attribution-NonCommercial-ShareAlike 4.0 International License.
The JCBM is an open access journal, and the authors (copyright owners) should be properly acknowledged when works are cited. Authors retain publishing rights without any restrictions.