Comparison of Formal and Informal Land Administration Systems in Lagos State: The Case of Epe Local Government Area
Abstract
The efficient harnessing of land resources remains key to unlocking the potential of economies in Sub-Saharan Africa. Land administration systems provide a veritable platform for coordinating the efforts aimed at maximising the overall value of a country's land resources. Extant studies, however, provide scanty and unorganised insight into the problems and benefits of the formal and informal land administration systems co-existing in Nigeria and how they affect physical development on land. Using a cross-sectional survey, this study investigated the benefits and problems of formal and informal land administration systems in Epe, Lagos, and ascertained the relationship between the level of land development and land occupants' type of occupancy (which may be formal or informal). A major problem of the formal land administration system is that to be allocated land; one needs to know a government official, while its key benefit is that anyone can be allocated land anywhere irrespective of their state of origin. Under the informal land administration system, the main problem is that additional "settlement(s)" are required before one can build on the land, while its key benefit is that one purchases land in the place of one's choice. Using logistic regression analysis, it was observed that the level of development of land is independent of the type of occupancy held by the occupant. The study concludes that formal land administration system does not necessarily lead to higher land development than informal land administration. Future land formalisation policies should seek to optimise the merits and minimise the challenges of the two systems of land administration.
Downloads
Download data is not yet available.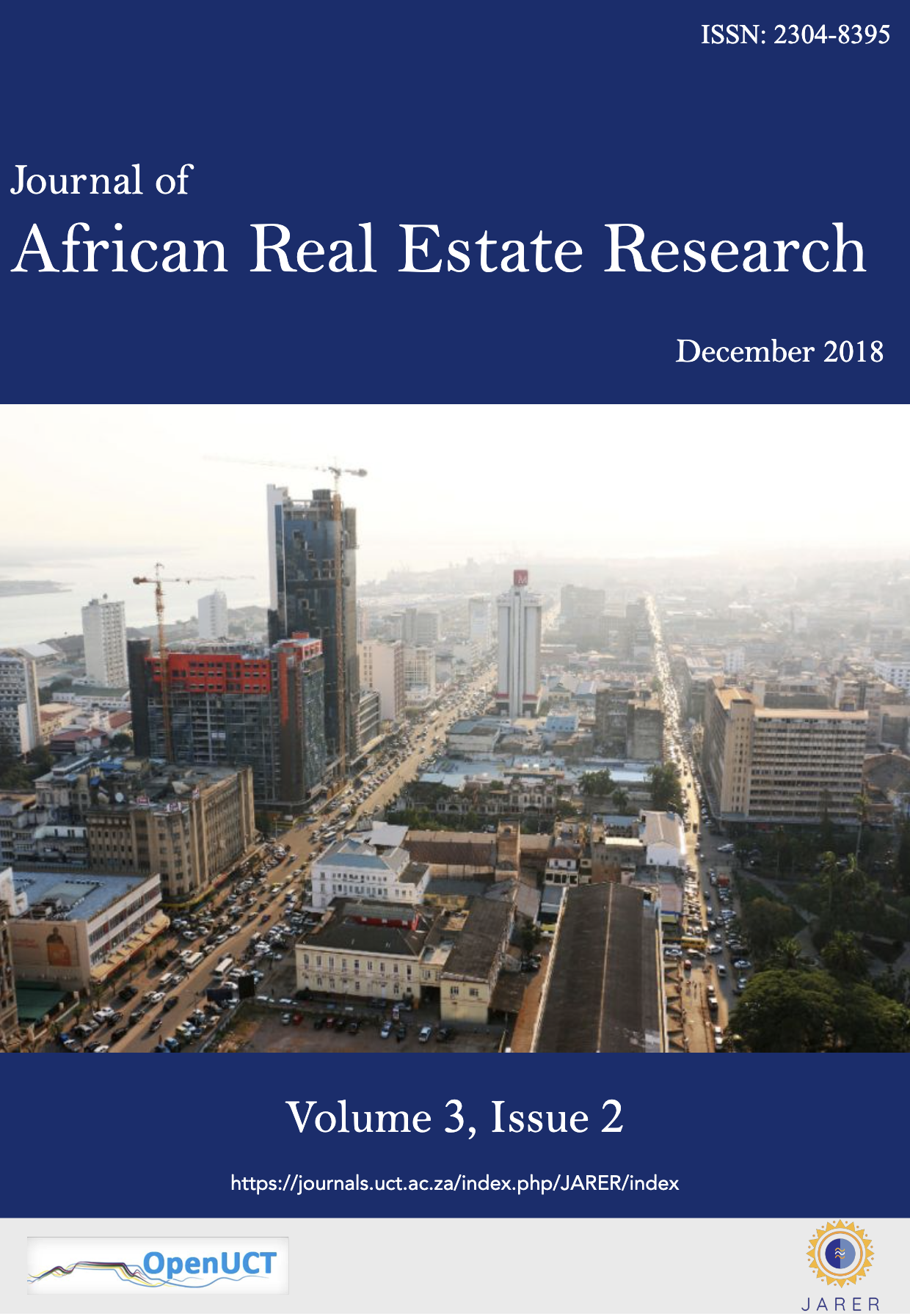 How to Cite
Ogbu, C. P., & Iruobe, P. (2018). Comparison of Formal and Informal Land Administration Systems in Lagos State: The Case of Epe Local Government Area. Journal of African Real Estate Research, 3(2), 18–43. https://doi.org/10.15641/jarer.v0i0.567
Section
Research Articles
License
This article is licensed under a Creative Commons Attribution 4.0 International License, which permits use, sharing, adaptation, distribution and reproduction in any medium or format, as long as you give appropriate credit to the original author(s) and the source.