Potentials of Integrated Rural Development Schemes for Improving Rural Infrastructure
Keywords:
integrated housing scheme, housing, integrated housing, rural housing provision, sustainable livelihood approach, RUDEP, RUDEP scheme, Nigeria
Abstract
The idea of the Integrated Development Scheme (IDS) has received considerable attention in India, Indonesia and in some African countries such as Kenya and Ethiopia. The scheme has led to urban slum upgrading in these countries and has led to notable successes in the provision of common facilities in the rural areas of India. Therefore, given the neglect of rural areas by both private and public sectors, and the need to improve the housing conditions of rural dwellers, this paper examines the benefits of improved livelihoods from the scheme to improving rural housing conditions in Nigeria. A case study of the Rural Development Programme (RUDEP) of Justice Development and Peace Makers' Centre (JDPMC), a non-governmental organisation in Osun State, Nigeria, was conducted. Stratified and purposive sampling was used to select 344 participants/beneficiaries of the programme from 28 active communities out of the 36 communities' coverage by RUDEP. Qualitative and quantitative data obtained from the respondents were analysed using descriptive statistics of percentages and frequency distributions. The results revealed that the RUDEP integrated scheme, which was first initiated with the objective of improving the livelihood of poorer farmers and women that engaged in agricultural-related activities, has also impacted rural housing conditions positively by empowering them to provide facilities that were not initially in place. The paper concluded that IDS could be a viable policy option for improving the condition of rural housing in Nigeria.
Downloads
Download data is not yet available.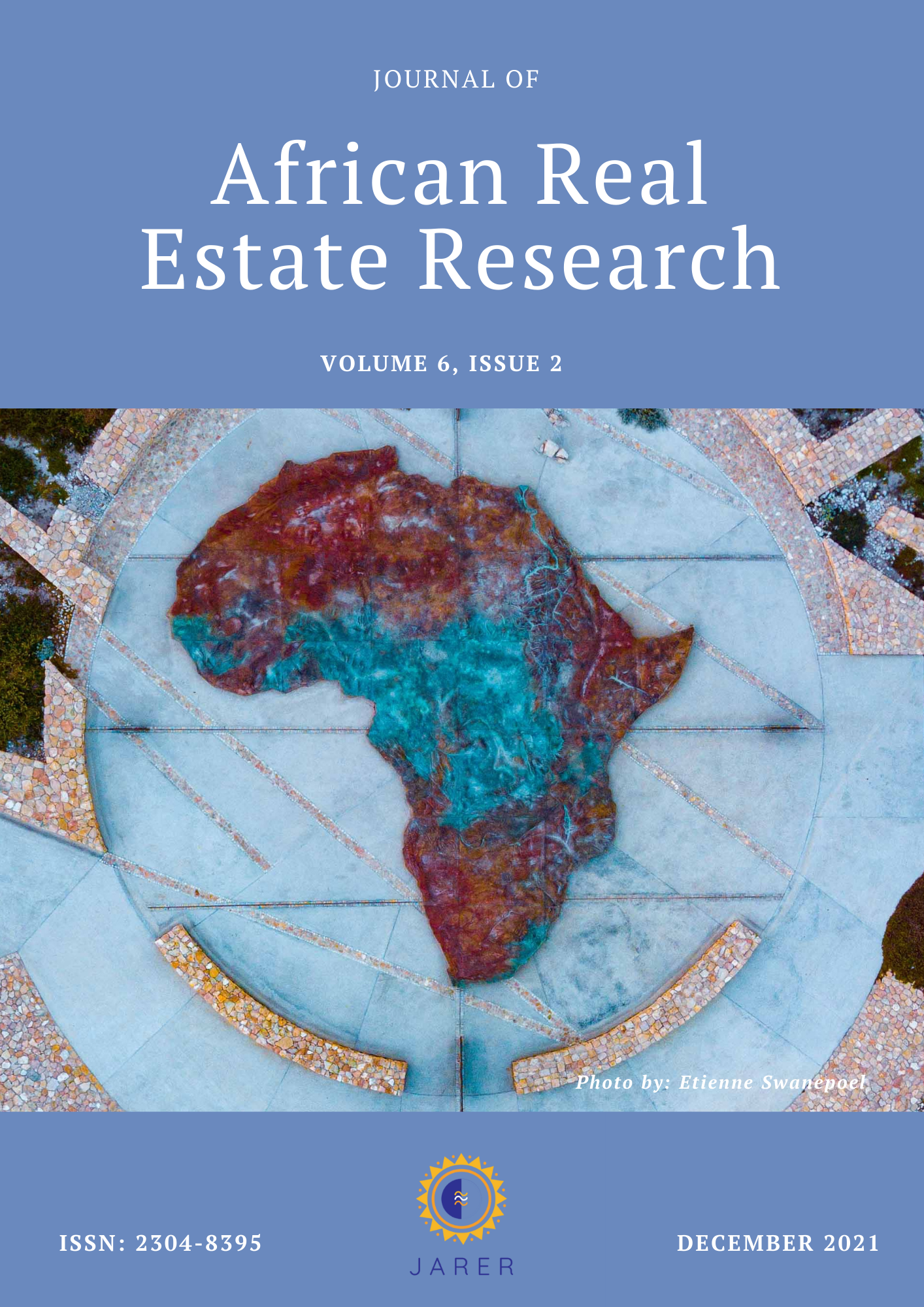 Downloads
Published
2022-02-04 — Updated on 2022-02-17
How to Cite
Odebode, A. A., Oladokun, T. T., & Ogunbayo, O. T. (2022). Potentials of Integrated Rural Development Schemes for Improving Rural Infrastructure . Journal of African Real Estate Research, 6(2), 1–20. https://doi.org/10.15641/jarer.v6i2.693
Section
Research Articles
License
Copyright (c) 2022 Adedayo Ayodeji Odebode, Timothy Tunde Oladokun, Dr, Oyeronke Toyin Ogunbayo
This work is licensed under a Creative Commons Attribution-NonCommercial 4.0 International License.
This article is licensed under a Creative Commons Attribution 4.0 International License, which permits use, sharing, adaptation, distribution and reproduction in any medium or format, as long as you give appropriate credit to the original author(s) and the source.