Barriers to Housing Development in Lagos Fringe Areas
A Developers' Perspective
Keywords:
Developer, Housing, Land Acquisition, Land Policy, Urban Fringe, Nigeria
Abstract
This study investigates developers' land acquisition and housing developments to assess factors that influence utilisation of the acquired land for housing development and strategic approaches that could drive mass housing developments. A sample of 141 members of the Real Estate Developers Association of Nigeria (REDAN) and 31 heads of units in the Land Bureau were surveyed. Weighted mean score and factor analysis were used to identify the barriers limiting housing developments and strategies that could enhance developers' housing initiatives. Findings revealed that the total number of housing units developed is insignificant in the study location, and eight groups of barriers were identified by developers as limiting their housing initiatives. Weak land institutional frameworks and inconsistency in government regulations and policy were recurring themes. These barriers are germane to housing development in the urban fringe of a growing African mega-city that needs 500,000 new housing units annually for the next 10 years to bridge the housing gap. The study recommends an efficient land reform framework to remove policies and regulations that impede timely land documentation, administration and housing development and to include developers through cooperative ventures.
Downloads
Download data is not yet available.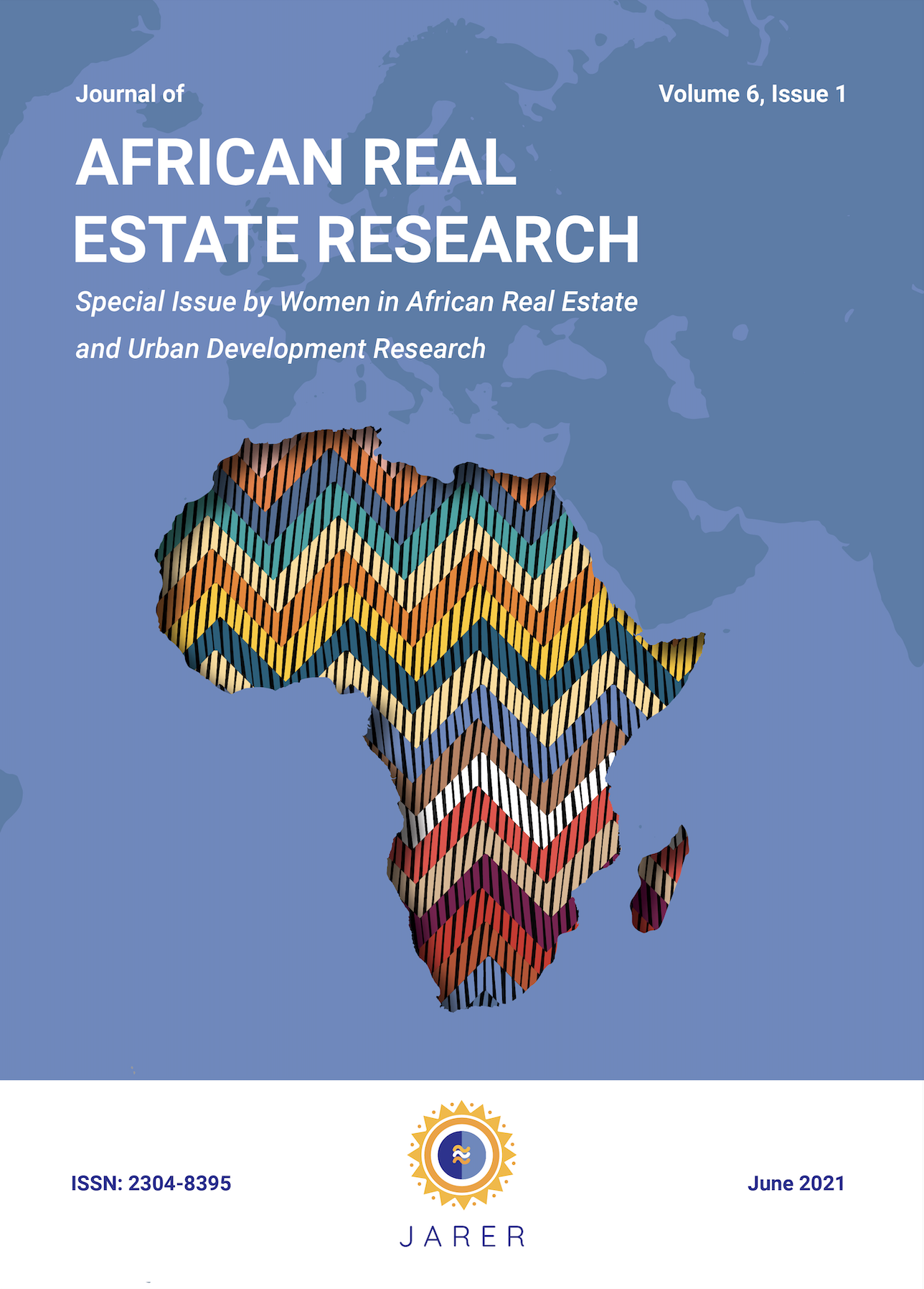 How to Cite
Thontteh, E., & Omirin, M. (2021). Barriers to Housing Development in Lagos Fringe Areas: A Developers' Perspective. Journal of African Real Estate Research, 6(1), 63–88. https://doi.org/10.15641/jarer.v6i1.955
Section
Research Articles
License
This article is licensed under a Creative Commons Attribution 4.0 International License, which permits use, sharing, adaptation, distribution and reproduction in any medium or format, as long as you give appropriate credit to the original author(s) and the source.